DYING AWKWARD ANGEL: le prime date del tour italiano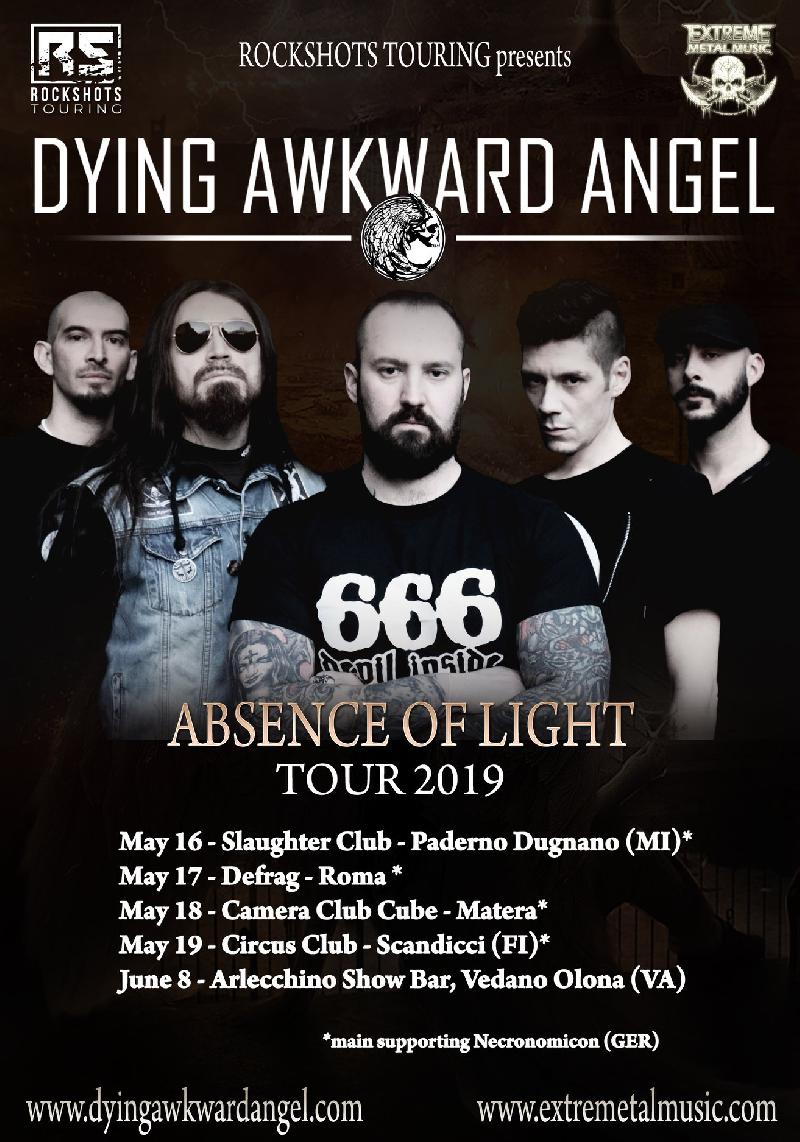 I death metallers torinesi DYING AWKWARD ANGEL hanno annunciato le prime date del tour italiano in supporto all' ultimo album "Absence Of Light", pubblicato lo scorso anno da Extreme Metal Music / Rockshots Records.
La band sarà anche main support degli storici thrash metallers tedeschi NECRONOMICON nel loro imminente tour italiano.
I Dying Awkward Angel sono una death metal band fondata nel 1998 a Torino per mano di Edoardo Demuro e Ivan Longo, seguendo la corrente melodica svedese degli anni '90. Il progetto ha vissuto per molti anni nella scena underground italiana, ed è sopravvissuto a diversi cambi di formazione. Non è mai stata interrotta, comunque, la ricerca di un sound sempre migliore, in equilibrio fra vintage e modernità.
Dopo alcune pubblicazioni indipendenti, "Absence of Light" è finalmente la prima release ufficiale della band!
"Absence of Light" impersonifica la tradizione old school del melodic death metal combinato con un approccio moderno e una produzione all' avanguardia.
"Absence Of Light" è stato pubblicato a Maggio 2018 da EXTREME METAL MUSIC/ROCKSHOTS RECORDS, ed è disponibile sullo store ufficiale dell' etichetta:
http://smarturl.it/DAA_AbsenceOfLight
I DYING AWKWARD ANGEL sono:
Edoardo Demuro (guitars)
Luca Pellegrino (drums)
Lorenzo Asselli (guitars)
Davide Onida (bass guitar)
Michele Spallieri (voice)
For more info:
http://www.extremetalmusic.com
http://www.rockshots.eu
http://www.dyingawkwardangel.com/
https://www.facebook.com/dyingawkwardangel
Inserita da:
Jerico
il 08.04.2019 - Letture:
78
Articoli Correlati
Interviste
Spiacenti!

Non sono disponibili Interviste correlate.
Live Reports
Spiacenti!

Non sono disponibili Live Reports correlati.
Altre News di MetalWave
Notizia Precedente
Notizia Successiva