ROAD TO ITALIC PAGAN FEST: ecco il bill definitivo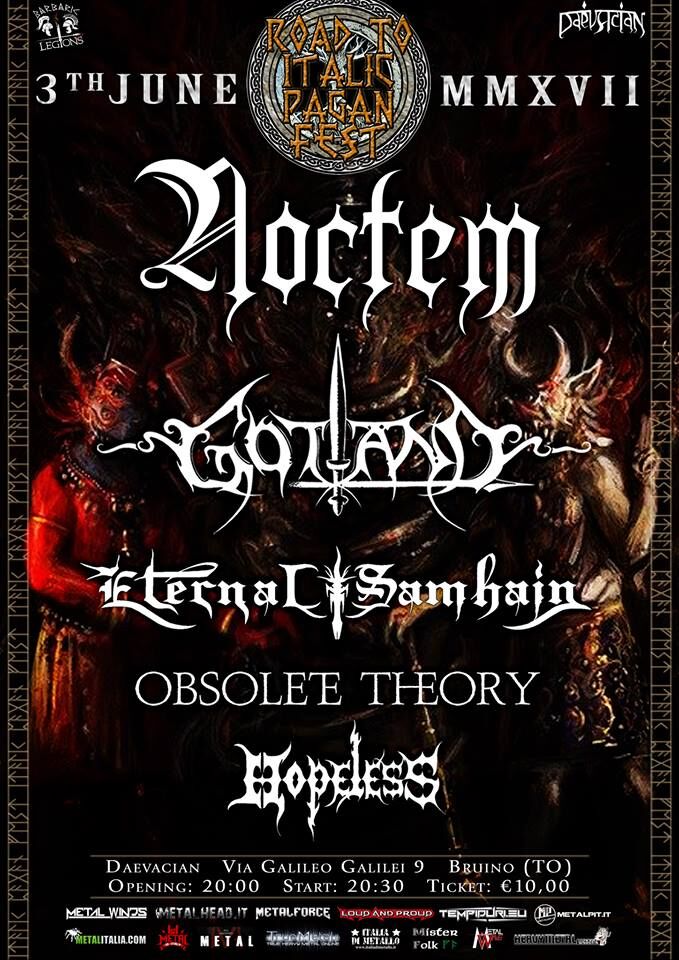 Aspettando notizie sulla terza edizione che si terrà a Settembre, quest'anno l'Italic Pagan Fest raddoppia con un warm-up show, il "Road To Italic Pagan Fest" che si terrà Sabato 3 Giugno al Daevacian, vicino a Torino.
Come tutti gli eventi targati "Italic Pagan Fest" troverete rappresentato il meglio della scena Pagan, Black e Folk metal italica e non solo. Infatti, in questo evento per la prima volta sarà presente un headliner straniero, ovvero gli spagnoli (e senza bisogno di presentazioni) Noctem.
Ecco il bill definitivo:
- Noctem
http://www.fb.com/noctemofficial/
- Gotland
http://www.fb.com/gotlandmetal/
- Eternal Samhain
http://www.fb.com/eternalsamhain/
- Obsolete Theory
http://www.fb.com/ObsoleteTheory.Official/
- Hopeless
http://www.fb.com/hopelessdeathmetal/
Qui invece potete vedere il trailer ufficiale dell'evento:
https://youtu.be/CxfGdYc7Z1Q
E qui tutte le informazioni sull'evento:
http://www.facebook.com/events/743512945829151
Inserita da:
Jerico
il 20.05.2017 - Letture:
1055
Articoli Correlati
Altre News di MetalWave
Notizia Precedente
Notizia Successiva