METALWAVE ON-AIR: playlist del 23-07-2017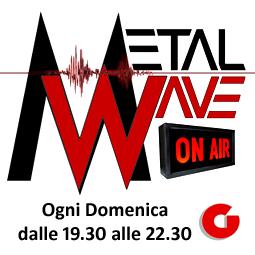 In Studio: Demone
01. Freedom Call :: Rockin' Radio
02. Electric Boys :: All Lips N Hips
03. Carcass :: Carnal Forge
04. Absu :: The Coming Of War
05. Marduk :: Panzer Division
06. Impaled Nazarene :: Total War
07. Belphegor :: Totenkult
08. Kreator :: Totalitarian Terror
09. Sacred Reich :: Ignorance
10. Exciter :: Heavy Metal Maniac
11. Death Angel :: Hatred United/Hate United
12. Loudness :: Crazy Nights
13. Asphyx :: Deathammer
14. Hell :: End Of Days
15. In.Si.Dia. :: Parla Parla
16. Helloween :: Nabataea
--- Intervista ANCIENT DOME ---
17. Ancient Dome :: D.I.E.
18. Danko Jones :: Terrified
19. Gwar :: Rocknroll Never Felt So Good
20. Deep Purple :: Space Truckin
21. Paradox :: Heresy
22. Melvins :: Flaming Creatures
23. Stratovarius :: Against The Wind
24. Keep Of Kalessin :: Ascendant
25. Destrage :: My Green Neighbour
26. Michael Monroe :: The Ballad Of The Lower East Side
27. Flashgod Apocalypse :: The Violation
28. Harem Scarem :: United
29. Judas Priest :: Turbo Lover
30. Motorhead :: Born To Raise Hell
METALWAVE ON-AIR, in onda ogni DOMENICA dalle 19:30 alle 22:30 sulle frequenze di RADIO GALILEO - (Terni), é un programma radiofonico curato da Jerico, in collaborazione con Alcio, Demone e Wolverine, e con la partecipazione di tutto lo staff di METALWAVE.
METALWAVE ON-AIR può essere ascoltato anche in diretta streaming internet, grazie al server di Radio Galileo. Per poter ascoltare la trasmissione in streaming è sufficiente andare a questa pagina:
http://www.radiogalileo.it/
Per interagire con noi, durante il programma, potete usare i seguenti metodi:
Tel: 0744.402501
SMS BOX: 327.0654271
STREAMING:
http://www.radiogalileo.it/
E-MAIL: radio@metalwave.it
FACEBOOK:
http://www.facebook.com/metalwaveonair
Inserita da:
Jerico
il 25.07.2017 - Letture:
1633
Articoli Correlati
Interviste
Spiacenti!

Non sono disponibili Interviste correlate.
Live Reports
Spiacenti!

Non sono disponibili Live Reports correlati.
Concerti
Spiacenti!

Non sono disponibili concerti correlati.
Altre News di MetalWave