Spellblast «Horns of Silence» (2007)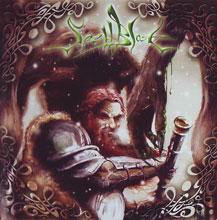 Autore:
AtoragoN

»
Recensione Pubblicata il:
--
Visualizzazioni:
1788
Band:
Spellblast




Titolo:
Horns of Silence
Nazione:
Italia
Formazione:
Luca - Lead Gtr.
Jon - Voice
Claudio - Rhythm Gtr.
Alberto - Drums
Ivan - Synth
Xavier - Bass
Genere:
Durata:
47' 7"
Formato:
Data di Uscita:
2007
Etichetta:
Distribuzione:
---
Agenzia di Promozione:
---
Recensione
Band attiva sin dal 1999, gli Spellblast approdano oggi alla prima uscita su etichetta, la Metal Crusade records. Il genere è quello che all'estero chiamano "Italo Metal", un solare power debitore agli Stratovarius dell'era "Visions" ma con le atmosfere gelide del nord sostituite da sonorità ancora più solari e un'uso mediamente più alto di strumenti classici (midi, ovviamente, tranne un pezzo in cui come guest c'è una ragazza al violino); insomma, lo stile che andava di moda una decina di anni fa, prima che i Rhapsody diventassero la parodia di loro stessi e Labyrinth e Vision Divine perdessero completamente la "forma-canzone". Fatta questa premessa, la musica degli Spellblast è suonata e cantata perfettamente, prodotta in modo pulitissimo, forse un po'troppo pop e poco potente, ma del resto forse questo è un po'intrinseco al genere, e in genere danno una buona impressione di professionalità, tanto che se fossero appunto usciti con questo disco una decina di anni fa sicuramente avrebbero trovato un loro spazio molto più facilmente che ora. Qual'è il problema allora? È che oggi, a circa dieci anni di distanza da "Visions" e "Return to Heaven Denied", questa musica sa tremendamente di già sentito, di uno stereotipo che è degenerato fino ad essere odiato dalla nuova generazione di ascoltatori (non che con il metalcore oggi di oggi andrà diversamente comunque...), quindi sono sopravvissute solo le band che sono riuscite a distanziarsi dallo stereotipo diversificando la proposta, rendendola più personale (appuno i Labyrinth hanno virato sul progressive, ad esempio), o comunque anche quelle che escono oggi cercano di dare una loro interpretazione al genere, al momento mi vengono in mente i Synthphonia Suprema. Le band che vogliono restare collegate invece a tutti gli stilemi del genere e allo stesso tempo non sembrare anonimi o ridicoli, hanno bisogno di solo una cosa, che forse è la più rara: comporre canzoni memorabili, e melodie più coinvolgenti degli altri. Gli Spellblast sotto questo punto di vista sono altalenanti: a fianco di testi purtroppo abbastanza risibili (troppo semplicistici e che riciclano sempre i luoghi comuni del genere "knight, dragon, sword", dovreste lavorarci molto di più per avere appeal sul pubblico che capisce quello che dite!), affiancano alcuni pezzi che non lasciano nulla all'ascoltatore ad altri che sorprendono per efficacia, e che se ben eseguiti potrebbero diventare dei veri classici da concerto, di qualità molto migliore della quasi totalità di band power che ho recensito da quando collaboro con questa webzine. Da segnalare a questo proposito la BELLISSIMA "Losing Reality", il gioiello del disco, dotata di una melodia incredibilmente catchy ma non zuccherosa, che potrebbe veramente diventare un anthem dal vivo, alcuni frangenti particolarmente ispirati di "Glory to the gem" (attenti però a non rendere i pezzi troppo dispersivi con tutti questi cambi) e di "Legend of the Ice Wolf". Infine, si possono notare leggerissime influenze folk, molto lontane dallo stile degli Elvenking (però Damnagoras fa capolino su un pezzo), che potrebbero essere coltivate; in conclusione consiglio alla band di rendere il loro sound più personale perchè purtroppo seguendo questi stereotipi magari per paura di osare, non si arriva da nessuna parte. Alla prossima!
Track by Track
In The Name Of Odin

65

Lost In The Forest

70

Losing Reality

90

Glory To The Gem

70

Goblins' Song

70

Legend Of The Ice Wolf

70

Sign Of The Unicorns

65

Resurrection

65

Knights Of Darkness

65
Giudizio Confezione
Qualità Audio:

70

Qualità Artwork:

60

Originalità:

40

Tecnica:

80
Recensione di
AtoragoN

»
pubblicata il --. Articolo letto
1788
volte.
Articoli Correlati