Rhapsody of Fire «I'll Be Your Hero» (2021)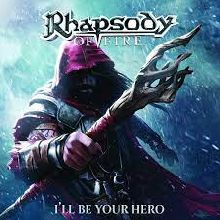 Autore:
reira

»
Recensione Pubblicata il:
23.09.2021
Visualizzazioni:
873
Band:
Rhapsody of Fire




Titolo:
I'll Be Your Hero
Nazione:
Italia
Formazione:
Giacomo Voli (vocals), Alex Staropoli (keyboards), Roby De Micheli (guitars), Alessandro Sala (bass), Manu Lotter (drums)
Genere:
Symphonic Power Metal
Durata:
40' 0"
Formato:
EP
Recensione
I RHAPSODY OF FIRE tornano in pista con un nuovo EP "I'll Be Your Hero", titolo anche del nuovo singolo proposto, che colpisce subito per la sua impetuosa copertina.

Oltre all'inedito, questo disco contiene altre sette canzoni: la bonus track destinata ai fans giapponese "Where Dragons Fly", due live ("Rain Of Fury" e "The Courage To Forgive") registrate in "The Eighth Mountain"-Tour nel 2019 e ben quattro versioni di "The Wind, The Rain And The Moon" nella lingua italiana, spagnola e francese, oltre a quella inglese.


Si parte con decisione attraverso le note della nuova I'll be your hero, pezzo con un chorus decisamente catchy che rimane in testa dal primo ascolto e che accosta con sapienza power e melodic metal senza cadere nel banale.

Where dragons fly, come già saprete, è una sorta di ballad con sonorità epiche che trova un breve sfogo in parte del ritornello creando un mood sognante e assolutamente godibile.
Eccoci a un live, Rain of fury The courage to forgive, i quali mostrano chiaramente le capacità della band sul palco: energia e potenza che esaltano il pubblico rendendo l'evento indimenticabile.

Eccoci all'ascolto della commovente e poetica The wind the rain and the moon, la quale, come detto in precedenza, viene eseguita anche in italiano (Senza un addio), spagnolo (Sin un Adios) e in francese (La force de me battre).

Che dire di questo breve e intenso lavoro? Bello, passionale e appassionante, ma anche una certezza per i veri fans e non solo, i quali troveranno sempre nuovi elementi per apprezzare una band di tutto rispetto che continua a proporci musica fatta bene e con un talento indescrivibile.

Track by Track
I'll be your hero

80

Where dragons fly (re-recording)

80

Rain of fury (live)

80

The courage to forgive (live)

80

The wind the rain and the moon

80

Senza un addio

85

Sin un adios

80

La force de me battre

80
Giudizio Confezione
Qualità Audio:

90

Qualità Artwork:

75

Originalità:

75

Tecnica:

90
Recensione di
reira

»
pubblicata il 23.09.2021. Articolo letto
873
volte.
Articoli Correlati
Live Reports
Spiacenti!

Non sono disponibili Live Reports correlati.