Infernal Poetry «Nervous System Checking» (2007)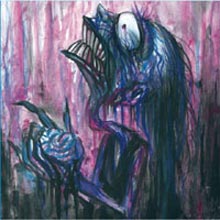 Autore:
Alcio

»
Recensione Pubblicata il:
--
Visualizzazioni:
2846
Band:
Infernal Poetry






Titolo:
Nervous System Checking
Nazione:
Italia
Formazione:
• Paolo – Voce
• Daniele – Chitarre
• Christian – Chitarre
• Alessandro I. - Basso
• Alessandro V. - Batteria
Genere:
Durata:
13' 24"
Formato:
Data di Uscita:
2007
Etichetta:
Distribuzione:
---
Agenzia di Promozione:
---
Recensione
Beh.... chi ha letto il sondaggio di fine anno ha anche letto il mio buon proposito per il 2007: tornare a recensire musica per MetalWave.
Quale migliore occasione di farlo se non con un disco di una delle migliori realtà italiane come gli anconetani Infernal Poetry???
Il quintetto sta tornando alla carica con un nuovo disco ed ha pensato bene di farlo dando un assaggio del loro nuovo corso musicale con il 4-tracks mini-CD che sta girando ora nel mio lettore.
Lo sto ascoltando da diversi giorni e devo ammettere che mi ha spiazzato ma mi ha anche piacevolmente colpito: nella musica, nell'artwork e nei testi!
Ma passiamo subito al track-by-track che vi spiego perché!

L'inizio del CD è da subito bello sparato con suoni compressi, nitidi e taglienti ed è affidata a "Forbidden Apples": un opening track basata su di un up-tempo schizoide ed un riffing serrato ed incalzante con diverse accelerazioni grind. La voce si estende da un growl piuttosto aperto (e quindi intellegibile) allo screaming, passando per il sussurrato ed il filtrato in stile industrial.
Lo stacco centrale del brano è pazzoide e spiazzante, ma a suo modo interessante nella sua particolarità.
La successiva "They Dance in Circles" ha un supporto groovy a cui si alterna un riff malato delle chitarre supportato dalla voce sussurrata di Paolo che lascia il posto alla granitica sezione ritmica e ad uno special che non riesco a definire con altro aggettivo se non malato.
Arriva poi il turno di "The Next is Mine", anche questa song inizialmente basata su di un riff groovy e stoppato per poi arrivare ad un interessante centrale.
Chiude il lavoro "Pathological Acts at 37 Degrees", la mia preferita delle quattro..... forse per l'ipnotico riff di chitarra completato dalla voce ora sussurrata ora strillata, accelerazioni inaspettate e brutali ed un basso debordante. Anche qui uno stacco centrale visionario accompagnato da sample di voci ed atmosfere particolari è stavolta inframezzato da improvvisi raptus grind del precisissimo drummer.

Ed il lavoro si chiude lasciando in bocca quella sensazione di avere assaporato un nuovo gusto, di averlo apprezzato ma con la certezza di non essere ancora riuscito a capirne appieno tutte le sfumature.
Non mi piace indicare band di riferimento quando parlo di gruppi affermati (e non solo in Italia) come gli Infernal Poetry, ma non so se sono riuscito a farvi comprendere la particolare miscela sonora proposta dai ragazzi: prendete i Cynic, i Cryptopsy, i Primus ed una piccola quota di Mister Bungle e forse riuscite a capire quali sono gli ingredienti di questa ricetta. Dietro i fornelli non metteteci però il classico single in preda alla fame, ma uno chef raffinato che sa osare perché oltre alla tecnica ha anche fantasia!
Questa è la nuova evoluzione degli Infernal Poetry, un gruppo originale definito da qualcuno "Schizo Death Metal" che ha saputo aggiungere influenze alla propria proposta musicale senza inseguire le mode e senza paura di perdere fan.
Finalmente un gruppo italiano che sa di avere una discreta quantità di frecce nella propria faretra ed è bene intenzionato a scagliarle contro questo asfittico mercato di finti true-metallari!
Vi consiglio caldamente di accaparrarvi una copia di questo mini per avvicinarvi ad un gruppo che merita, in modo che sarete numerosi ad attendere "Nervous System Failure", il full lenght che dovrebbe essere stampato a breve!

p.s. Nel Cd c'è anche una sezione multimediale con 3 video-clip, di cui uno da oltre 10 minuti girato live al Godz of Metal 2006 con tanto di cover di "Fear of the Dark" dei Maiden.
Track by Track
Forbidden Apples

85

They Dance in Circles

80

The Next is Mine

85

Pathological Acts at 27 Degrees

90
Giudizio Confezione
Qualità Audio:

85

Qualità Artwork:

80

Originalità:

95

Tecnica:

80
Recensione di
Alcio

»
pubblicata il --. Articolo letto
2846
volte.
Articoli Correlati