Catalysis «Connection Lost» (2020)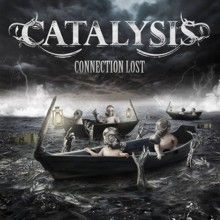 Autore:
Snarl

»
Recensione Pubblicata il:
01.04.2021
Visualizzazioni:
152
Band:
Catalysis




Titolo:
Connection Lost
Nazione:
Scozia
Formazione:
Colin MacGregor :: Lead Vocals
Drew Cochrane :: Lead Guitar, Vocals
Sean Ramson ­:: Rhythm Guitar, Vocals
Calum Rennie :: Drums
Kenneth Valentine :: Bass
Genere:
Death Metal / Thrash Metal
Durata:
47' 35"
Formato:
CD
Recensione
Discreto disco di debutto per i Catalysis, band groove/metalcore da Dundee in Scozia, UK, che con questo "Connection lost" ci propone una dozzina di brani abbastanza catchy, ripartiti in 47 minuti e mezzo.
E a dire la verità è un bel sentire, non c'è che dire, con i nostri Catalysis che suonano spesso omogenei nel corso dell'album, ma con alcune variazioni, anche se non enormi, per un andamento sicuro e che brano dopo brano riesce a imporsi, partendo da una opener abbastanza poco originale ma d'effetto, passando per il groove di "Drowning in my head" condito da una buona chitarra solista, o la botta hardcore di "Just turn back" fino alla più violenta "Tomb for the torn". Fin qua tutto bene, non fosse per il fatto che la parte centrale dell'album abbonda un po' in melodie di voci mica tanto riuscite, e che vanno a suonare come qualcosa di più dozzinale, mentre trovo trascurabile l'idea del rappato nel brano conclusivo, oltre al fatto che una qualche idea in più ci piacerebbe nei brani, a scapito anche di certi brani filler e/o troppo simili l'uno con l'altro.
Come inizio, comuneuq, "Connection lost" è un disco abbastanza solido e che ha dalla sua una buona compattezza che eccelle quando la band si concentra a fare groove/HC, evitando astruse contaminazioni. Bene così.
Track by Track
Conquer and devour

70

Devils in the panic room

70

Drowning in my head

70

Connection lost

70

Brother

65

Just turn back

70

A bridge too far

60

City of the dead

65

Reborn

60

Sentinel

65

Tomb for the torn

70

A version of the truth

65
Giudizio Confezione
Qualità Audio:

70

Qualità Artwork:

70

Originalità:

65

Tecnica:

70
Recensione di
Snarl

»
pubblicata il 01.04.2021. Articolo letto
152
volte.
Articoli Correlati
News
Spiacenti!

Non sono disponibili altre notizie correlate.
Recensioni
Spiacenti!

Non sono disponibili Recensioni correlate.
Interviste
Spiacenti!

Non sono disponibili Interviste correlate.
Live Reports
Spiacenti!

Non sono disponibili Live Reports correlati.
Concerti
Spiacenti!

Non sono disponibili concerti correlati.