Infernal Angels «Devourer Of God From The Void» (2020)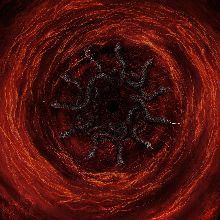 Autore:
Wolverine

»
Recensione Pubblicata il:
29.03.2020
Visualizzazioni:
347
Band:
Infernal Angels



Titolo:
Devourer Of God From The Void
Nazione:
Italia
Formazione:
XeS :: Vocals;
Apsychos :: Guitars;
Nekroshadow :: Guitars;
VrK :: Bass;
Bestia :: Drums;
Genere:
Black Metal
Durata:
1h 16' 34"
Formato:
CD
Recensione
Sulla scena black metal nazionale sin dal 2002 riornano con il quinto album della propria carriera gli Infernal Angels in cui la furia cieca della band viene proiettata su 11 tracce tirate anche sin troppo a lustro di questo "Devourer Of God From The Void"; la band come oramai nella propria miglior tradizione, si ispira ai nefasti delle band svedesi degli anni '90 offrendo comunque, come per chi li conosce, il proprio marchio. La rabbia attraverso l'ascolto delle tracce è veramente molta anche se di tanto in tanto non manca qualche passaggio più atmosferico reso con un suono parecchio grezzo e ruvido che non contestualizza al massimo la resa dello scream; i costanti blast beat della batteria a cui vengono consentite poche pause, non apportano una variazione ritmica di rilievo mantenendosi prettamente serrati e costanti nella resa. Da segnalare inoltre anche il contributo dato come special guests da Hellhound degli Ad Noctem Funeriis/Vajass e Discissus dai Necandi Homines in due diverse tracce. Probabilmente una produzione più consona al lavoro avrebbe consentito datto maggiore evidenza al tutto sia alle linee cantate che anche agli arrangiamenti che, come già sopra accennato paiono abbastanza ruvidi al punto da non offrire la valenza effettiva che in effetti il disco racchiude in sé.
Track by Track
The Light Of Lucifer

65

The Eternal Fire Of Golachab

65

From The Throne Of Thaumiel

70

Those Who Go Forth Into The Empty Place Of God

65

Ancient Serpent Of Chaos

65

Thagirion Sol Niger (feat. Hellhound)

70

Devourer Of God From The Void

65

The Corrosive One

65

Far From The Light Of God

70

Empress Of Sitra Achra

70

The Foremost Among The Eleven (feat. Discissus)

70
Giudizio Confezione
Qualità Audio:

60

Qualità Artwork:

65

Originalità:

70

Tecnica:

70
Recensione di
Wolverine

»
pubblicata il 29.03.2020. Articolo letto
347
volte.
Articoli Correlati
Concerti
Spiacenti!

Non sono disponibili concerti correlati.