Carcharodon «Las Fecas» (2006)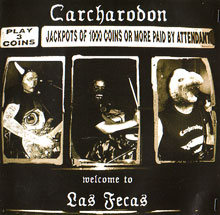 Autore:
Lord Lucyfer

»
Recensione Pubblicata il:
--
Visualizzazioni:
1825
Band:
Carcharodon






Titolo:
Las Fecas
Nazione:
Italia
Formazione:
Boggio - chitarra & seconda voce
Pixo - voce & basso
Zack - batteria & seconda voce
Genere:
Durata:
12' 42"
Formato:
Data di Uscita:
2006
Etichetta:
Distribuzione:
---
Agenzia di Promozione:
---
Recensione
No, ora voglio sapere: esiste in Italia un gruppo più 'zozzo' (nel senso buono del termine) dei Carcharodon? La risposta è NO! I Carcharodon sono la classica band che può far la felicità dei bikers, con quel misto di Hard Rock, Blues e Death Metal e con quelle tematiche sessual-alcooliche!

"Las Fecas" è, in sostanza, il terzo lavoro per questa banda di matti, dopo i precedenti "Kamasutra" (un live in studio) e "Pelvis". Purtroppo non ho avuto modo di sentire i due precedenti lavoro, ma una cosa la posso dire per certo per quanto riguarda questo cd in questione: CAZZO QUANTO MI PIACE!! Credo lo si possa definire uno di quei cd che DEVI ascoltare quando sei con gli amici nei momenti di massimo alcoolismo!

Pronti, via.. e si stappa 'na bottiglia di champagne con, guarda un po'?, "Champagne And Caviar", seguita da "Cadillac Grinder" (e qui la spinta vira, ovviamente, verso ritmiche più marcatamente Grind), per poi passare al capolavoro: eins, zwei, drei, Beer!!, ecco a voi "Zombie Jesus". A chiudere, "Pit Of Mammoths", pezzo musicalmente vicino a quello che fu il perido di nascita del Death Svedese (quello serio, non la merda melodica di oggi), ma con quelle sferzate rock 'n' roll che danno quel tocco di varietà.

Si possono riscontrare un casino di influenze in questo cd, e una non c'entra quasi nulla con l'altra: Death, Grind, Stoner, Hard Rock.. e chi più ne ha, più ne metta! Mi auguro di vederli presto sotto contratto e che il loro nome circoli in fretta, in modo tale che i tre ragazzi possano adescare un maggior numero di ragazzine (citazione dalla loro Bio). Beh oh, secondo me, ce la possono senz'altro fare! Per ora: welcome to Las Fecas!
Track by Track
Champagne And Caviar

75

Cadillac Grinder

78

Zombie Jesus

80

Pit Of Mammoths

80
Giudizio Confezione
Qualità Audio:

68

Qualità Artwork:

70

Originalità:

75

Tecnica:

65
Recensione di
Lord Lucyfer

»
pubblicata il --. Articolo letto
1825
volte.
Articoli Correlati