AA.VV. «SDMETAL.ORG Compilation Vol. 1» (2004)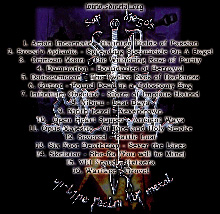 Autore:
Miogaror

»
Recensione Pubblicata il:
--
Visualizzazioni:
2177
Band:
AA.VV.

Titolo:
SDMETAL.ORG Compilation Vol. 1
Nazione:
U.s.a.
Formazione:
Genere:
Durata:
1h 7' 0"
Formato:
Data di Uscita:
2004
Etichetta:
Distribuzione:
---
Agenzia di Promozione:
---
Recensione
La California...c'e' chi la sogna, e c'e' chi ci vive suonando black metal, death metal, grind...e c'e' chi raccoglie brani dei suddetti loschi individui per farne una compilation...e' proprio il caso di questa "SDMetal.org Compilation Vol. 1".
L'onore / onere di aprire la rassegna spetta agli Amon incarnate, a dire la verita' una one-man band, artefice di un buon black metal capace di creare belle atmosfere, impreziosite da alcuni passaggi di tastiera abbastanza ispirati.
Arrivano poi i Broca's aphasia, che per tenere fede al loro colto nome ( l'afasia del Broca, se non ricordo male, era una qualche disfunzione del linguaggio dovuta a problemi cerebrali ) ci aggrediscono col loro grind-core a volte caotico ( complice la registrazione ), niente di particolarmente entusiasmante nonostante la buona volonta' e il tentativo di creare qualcosa di personale.
Si passa quindi ai Crimson moon e si va sul Dimmuborgiriano puro, black metal sinfonico in piena regola con tastieroni, alternanza di tempi mid e veloci con doppia cassa in bella evidenza, stacchi con arpeggi incorporati, bei riffs melodici ed una voce davvero notevole...non manca nulla insomma ! Bravi !
Attivi da parecchi anni, i Damnation ci propongono del sano death metal diretto ed aggressivo, con una voce gutturale al limite del lavandino. Una track intensa e potente nella quale non mancano momenti piu' " ragionati ", non male.
I Dodecameron lasciano un po' perplessi all'inizio, il loro black metal sembra grezzo e caotico, poi si riprendono e il brano qui presentato diventa avvincente e pieno di cambi di tempo. Riprendono un po' tutte le lezioni dei maestri scandinavi, e qui e' a discrezione di chi ascolta apprezzare la loro dedizione o pensare che comunque tra i fiordi queste cose le fanno gia' dal secolo scorso...
Per i Gutrot parla gia' il monicker, brutal death metal purtroppo reso quasi inascoltabile dalla qualita' del suono. Praticamente tutto il loro brano e' la messa in musica di una gara " a chi fa prima "...scommetto che comunque si faranno apprezzare dai patiti del genere.
E' la volta di Nubiru, gia' membro dei Crimson moon ( e qui, cattivo sangue non mente ! ). Eterea ed atmosferica la sua proposta, facendo le dovute proporzioni ricorda i primi Arcturus ! Bello il tappeto sinfonico su cui si snoda la sua ipnotica traccia black metal...davvero da tenere d'occhio !
Death metal tecnico ed abbastanza ponderato quello dei Ninth level, che si spingono fino ai confini del black, del jazz e della classica, un po' alla Pestilence dell'ultimo periodo, ma piu' " scoppiati " e con pezzi veloci.
Arriva la ricreazione con gli Ohs...bruttissimi a vedersi ( una specie di Galliani - Zio Fester ed un ceffo al cui confronto i Krisiun sembrano i Poison ! ) e pure abbastanza inascoltabili. Se un sacchetto di patatine provasse a cantare black metal, il risultato sarebbe piu' o meno questo ! La registrazione e' orrenda e i riffs sono irritanti, specie nella parte lenta, via via questa immondizia !!!
Di ben altro spessore ( tralasciando la pecca di aver registrato in un barile di ovatta ) gli Opus majestic...quello che si intuisce e' un bel black metal sinfonico e sognante, ovviamente originalita' zero, ma si sa come l'usato garantito sia una risorsa apprezzatissima. Sicuramente il fatto di stare dopo gli Ohs e' un bel vantaggio, chiunque farebbe bella figura...
Avanti coi Severed, un po' penalizzati dalla registrazione, ma comunque una band che gia' dalla foto fa intuire di avere quel quid in piu'. Ci sanno fare con gli strumenti i ragassuoli, e sembrano trovarsi a loro agio nel gestire tanti riffs e cambi di tempo...promossi !!!
Insipido new metal sentito e risentito per i Six foot deathrap, a parte la bella voce acidissima del singer non c'e' nulla che possa smuovermi a livello musicale, il loro e' il classico pezzo che dopo 10 secondi ha gia' detto tutto...peccato, forse sono un po' fuori posto in questa compilation.
E gli Skelator ? Ma chi ce li ha messi questi ? Non so nemmeno se sia uno scherzo...in ogni caso, per dovere di cronaca raccontiamo del loro heavy metal di infima qualita', che sembra uscito da un juke-box di un film di Tomas Milian...essu' per piacere,questa e' roba che girava quando facevo le medie !!!
Spiccano invece per qualita' sonora ed anche per originalita' i VIII fraud, che mescolano parti swedish a rallentamenti su cui ricamano voci grungettine, magari discutibili, ma che rendono il tutto meritevole di un ascolto. Particolari e coraggiosi, si fanno apprezzare anche se piu' di uno storcera' il nasetto.
Il nostro viaggio finisce con i Warforce ed il loro brutal death metal mai esasperato. Onesti musicanti che sanno fare il loro mestiere, una specie di Six feet under piu' freschi ( e non e' che ci voglia molto ultimamente ), e viene spontaneo pensare " finalmente degli americani che fanno quello che sanno fare meglio, il death ! Bisognava aspettare la fine ".
Infatti siamo arrivati alla fine, dove e' rigoroso ricordare che all'appello manca purtroppo la performance degli Infinitum obscure ( non c'era proprio ! ) e che la compilation e' scaricabile seguendo gli appositi links dal sito http://sdmetal.org/.
Bella iniziativa, vale la pena dare un ascolto, e senza dubbio ognuno trovera' pane per i propri denti ( per esempio io aspetto con ansia notizie dei Crimson moon e di Nubiru...)
Track by Track
Amon Incarnate :: Haunted Fields Of Passion

70

Broca's Aphasia :: Spreading Spermicide On A Bagel

65

Crimson Moon :: The Withering Rose Of Purity

95

Damnation :: Boundaries Of Betrayal

70

Dodecameron :: The Twelve Eves Of Darkness

65

Gutrot :: Found Dead In A Colostomy Bag

55

Infinitum Obscure :: Storm Of Impious Hatred

70

Nibiru :: Last Days

85

Ninth Level :: Nevercrown

75

Open Heart Supper :: Ancient Ways

35

Opus Majestic :: Of Fire And Holy Smoke

60

Severed :: Battle Lust

80

Six Foot Deathrap :: Sever The Lines

50

Skelator :: She-Ra (You Will Be Mine)

40

VIII Fraud :: Hetaera

70

Warface :: Grovel

80
Giudizio Confezione
Qualità Audio:

70

Qualità Artwork:

70

Originalità:

65

Tecnica:

75
Recensione di
Miogaror

»
pubblicata il --. Articolo letto
2177
volte.
Articoli Correlati