Aleph «In tenebra» (2006)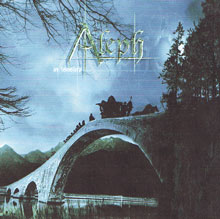 Autore:
FallenAngel

»
Recensione Pubblicata il:
--
Visualizzazioni:
2609
Band:
Aleph




Titolo:
In tenebra
Nazione:
Italia
Formazione:
Dave Battaglia :: voce & chitarra
Lorenzo Fugazza :: chitarra
Giulio Gasperini :: tastiera
Antonio Ceresoli :: basso
Manuel Togni :: batteria
Genere:
Durata:
48' 18"
Formato:
Data di Uscita:
2006
Etichetta:
Distribuzione:
---
Agenzia di Promozione:
---
Recensione
Gli Aleph nascono nel 1998 da un'idea del batterista Manuel Togni e del chitarrista Fabio Bellan; dopo aver partecipato ad alcune compilation e a numerosi concerti, riescono finalmente a proporre al pubblico il full-lenght "In tenebra".
Il platter si apre con "The fallen", un brano molto particolare che racchiude dentro di sé un insieme di generi; l'inizio particolarmente cupo ed atmosferico lascia spazio a momenti thrash che sfociano qua e là in un metal quasi sinfonico. Il tutto è mixato in maniera sapiente; il risultato è un brano completo e particolarmente avvincente.
Con "Unfaithful" ci spostiamo verso lidi squisitamente thrash con un sound caratterizzato da cavalcate di doppia cassa alternate a momenti maggiormente tecnici che dimostrano l'indubbia capacità tecnica della band. La potenza viene sprigionata dai riff di chitarra granitici che disintegrano il muro del silenzio grazie note convincenti e cariche di energia.
"Depths" può essere vista come un'opera fine a se stessa, completa in tutte le sue innumerevoli parti; dopo un inizio all'insegna della melodia, chitarre dal sound doomeggiante ci portano in un'atmosfera surreale e claustrofobica che riesce a creare nell'ascoltatore un senso di "piacevole disagio". La voce di Dave parte tranquilla per poi trasportarci in un turbine di energia e potenza thrash per poi cullarci con una melodia molto piacevole e mai lagnosa.
La titletrack "In tenebra" fa dell'aspetto atmosferico il suo punto di forza grazie anche ad una linea vocale sussurrata che riesce a far venire i brividi; le tastiere di Giulio Gasperini fanno la maggioranza del lavoro in maniera pressoché egregia mettendo in secondo piano l'importanza degli altri strumenti che vengono relegati ad un ruolo di contorno.
"Acis tears" è l'unico brano che può essere veramente etichettato come thrash; il sound della canzone è di chiara ispirazione Stayer soprattutto per quanto riguarda i riff di chitarra. Ciò nonostante gli Aleph riescono anche in questo caso a personalizzare in maniera particolarmente piacevole i suoni grazie soprattutto all'inserimento di parti di tastiera che risultano perfettamente integrati nel resto.
Questo "In tenebra" è quindi un ottimo lavoro sotto tutti gli aspetti che riesce ad accostare melodia e potenza nel migliore dei modi; il sound della band riesce a convincere soprattutto per quel che concerne l'originalità e la personalità che fa capolino in ogni brano.
Track by Track
The fallen

84

Unfaithful

80

Depths

78

Mother of all nightmares

76

In tenebra

82

The fallen (native lyrics)

80

Acid tears

88
Giudizio Confezione
Qualità Audio:

82

Qualità Artwork:

80

Originalità:

86

Tecnica:

80
Recensione di
FallenAngel

»
pubblicata il --. Articolo letto
2609
volte.
Articoli Correlati