Sepolcro «Amorphous Mass» (2019)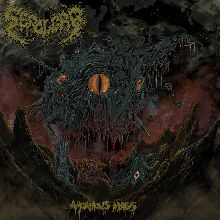 Autore:
Wolverine

»
Recensione Pubblicata il:
18.05.2019
Visualizzazioni:
482
Band:
Sepolcro




Titolo:
Amorphous Mass
Nazione:
Italia / Usa
Formazione:
- Hannes :: Drums and Vocals;
- Simone :: Guitars and Vocals;
- Nor :: Bass;
Genere:
Death Metal
Durata:
20' 7"
Formato:
EP
Recensione
Questo Ep dei Death metallers Sepolcro, pur richiamandosi alla vecchia scuola death sinceramente lascia un po' a desiderare soprattutto per quanto attiene il profilo della personalità; a ciò si aggiungano oltretutto le sin troppo ovattate distorsioni e una produzione che non pare certamente aiutare più di tanto offrendo in definitiva un risultato di livello appena sufficiente. Anche se recentemente il combo aveva già rilasciato un Ep apprezzabile nei contenuti, questa volta, stante le due tracce in più proposte, una delle quali non classificabile nei contenuti, le idee sembrano essere piuttosto limitate. Stante il buon gutturale in growl che decanta al meglio lo spirito del genere c'è poco altro da aggiungere; probabilmente una delle tracce più appaganti ricade in "Unnamed Dimension" in cui si ravviva il mid tempo, appena più propositivo caratterizzato da una maggiore velocità ritmica rispetto ai brani precedenti; altro brano accettabile ma sino ad un certo punto è il conclusivo "Amorphus Mass" in cui la band offre un quadro ritmico abbastanza spinto e tirato anche se i distorti tendono a prevalere un po' troppo su tutto il resto. Peccato perché questo Ep in sostanza, tenuto conto dell'esito del precedente "Unded Abyss", avrebbe dovuto dare maggiore impulsività al tutto e invece la band pare ancora un po' troppo radicata al suolo.
Track by Track
The Malevolent Mist

55

Sulphurous Eruption From The Depths

55

Unnamed Dimension

60

An Ancient Summoning

S.V.

Amorphous Mass

60
Giudizio Confezione
Qualità Audio:

55

Qualità Artwork:

65

Originalità:

55

Tecnica:

55
Recensione di
Wolverine

»
pubblicata il 18.05.2019. Articolo letto
482
volte.
Articoli Correlati
Interviste
Live Reports
Spiacenti!

Non sono disponibili Live Reports correlati.
Concerti
Spiacenti!

Non sono disponibili concerti correlati.