DragonhammeR «Obscurity» (2017)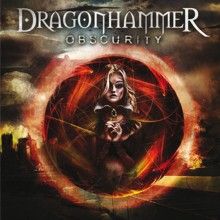 Autore:
Snarl

»
Recensione Pubblicata il:
01.04.2018
Visualizzazioni:
1668
Band:
DragonhammeR




Titolo:
Obscurity
Nazione:
Italia
Formazione:
Max Aguzzi :: Lead Guitar and Voice
Gae Amodio :: Bass Guitar
Flavio Cicconi :: Guitar
Giulio Cattivera :: Keyboards
Andrea Gianangeli :: Drums
Genere:
Power Prog Metal
Durata:
45' 21"
Formato:
CD
Recensione
Ritornano i Romani Power metallers Dragonhammer con questo loro quarto album, chiamato "Obscurity" e che condensa circa 45 minuti di musica in 9 canzoni più intro. E diciamo sin da subito che "Obscurity" continua a confermare il valore di questa band, che non riesce a bissare i fasti del loro primo (e migliore, secondo me) "The blood of the dragon", ma che comunque rappresenta un degno successore.
Il motivo di questo è dato dal fatto che "Obscurity" suona bene, molto bene, spazia tra i generi, è compatto e non presenta mai episodi musicali che fanno cilecca, ma va un po' sul sicuro. Lo si nota in maniera evidente quando comincia l'opener "In the eye of the storm", brano potente e aggressivo, ma anche un po' classico e non al top in quanto a originalità, e la stessa cosa avviene per la più rockeggiante "Brother vs brother", mentre alcune parti di organo caratterizzano "Under the vatican's ground", che però suona sempre un po' di mestiere: bella, ma non il top in quanto ad originalità. Finora in tutta sincerità l'album suona un po' manieristico: non male, ma niente che sia destinato a durare.
E invece, in maniera inaspettata, da qui in poi i Dragonhammer accelerano e ci propongono una serie di brani che ci convincono ampliando il songwriting con delle influenze che ci suonano molto amalgamate, seppur non mescolandole tra brano e brano, ma soprattutto aumentando un po' l'originalità, con un'accoppiata più speedy data da "The game of blood" e "The town of evil", passando per i guizzi chitarristici di "Children of the sun" e la coralità di "Fighting the beast". E se la ballad "Remember my name" riesce ad essere calma senza annoiare, la title track conclusiva fa da degno atto di chiusura, grintosa e potente, che conclude un disco che non reinventa chissà cosa, ma che riesce a farci passare 45 minuti di un ascolto gradevole e ben fatto e che pur non brillando di personalità riesce comunque ad essere più che soddisfacente per la genuinità del sound, senza alcuna tentazione "power metal da cartone manga" o eccessive produzioni che avrebbero rovinato il feeling del disco. Apprezzo l'onestà di quest'album, e per questo dono il voto sotto riportato, che rende "Obscurity" consigliato agli amanti del Power Metal made in Italy.
Track by Track
Darkness is coming - Intro

S.V.

The eye of the storm

70

Brother vs brother

70

Under the vatican's ground

70

The game of blood

80

The town of evil

80

Children of the sun

75

Fighting the beast

75

Remember my name

70

Obscurity

80
Giudizio Confezione
Qualità Audio:

75

Qualità Artwork:

75

Originalità:

70

Tecnica:

75
Recensione di
Snarl

»
pubblicata il 01.04.2018. Articolo letto
1668
volte.
Articoli Correlati