Steel Cage «Obsidian» (2006)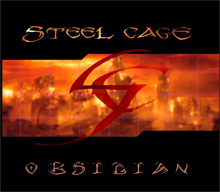 Autore:
Lord Lucyfer

»
Recensione Pubblicata il:
--
Visualizzazioni:
1410
Band:
Steel Cage


Titolo:
Obsidian
Nazione:
Italia
Formazione:
Silvestro Giordano - voce
Gianluca Rungetti - chitarra
Giuseppe Rungetti - chitarra
David Iovino - basso
Genny Eneghes - batteria
Genere:
Durata:
41' 33"
Formato:
Data di Uscita:
2006
Etichetta:
Distribuzione:
---
Agenzia di Promozione:
---
Recensione
La Terra è stata quasi completamente distrutta da una guerra, all'Uomo non è rimasto più nulla. I sopravvissuti devono cercare un modo per ricominciare tutto da capo. Dare un nuovo via al corso dell'Umanità.

È in questo scenario post-apocalittico che è ambientato "Obsidian", primo full dei napoletani Steel Cage. Riportando le parole degli stessi Steel Cage durante la serata di presentazione dell'album, l'ossidiana era un materiale tanto caro soprattutto all'uomo preistorico, dato che le prime scoperte, le prime armi, e quasi tutto il resto, veniva costruito con questo minerale. Quindi qui l'ossidiana viene visto l'elemento di rinascita post-apocalisse, come fu agli albori dell'Umanità.

Venendo al cd, se ottimo è il pensiero e la costruzione del concept, proprio lo stesso non si può dire musicalmente. Per carità, disco suonato benissimo, con una produzione ottima… però ti lascia quel non so che di già sentito. Il genere proposto dagli Steel Cage, infatti, è il più classico del Thrash/Death di matrice svedese (con una buona spruzzata, se non di più, di Gothic finlandese.. quello à la Sentenced per intenderci), insomma quello che fu il trend nel mondo Metal prima dell'avvento di quella monnezza del Metalcore.

Comunque sia, qualcosa di veramente buono lo si sente, come nel caso di "Damned Soul" "My Old Illusion", Just A Nightmare" o "A Coin For Acheronte", che sembra il pezzo meglio riuscito e più intrigante del lavoro.
Per il resto, come detto prima, il tutto risulta essere, purtroppo, già troppo sentito, ed è un peccato, conoscendo le qualità della band. È come se non avessero tirato fuori tutto quello che potevano, come se non avessero voluto osare un po' di più. Beh, il genere proposto dal combo partenopeo, però, come sempre, potrà risultare decisamente ottimo dal vivo.

Alla fin fine, comunque, buona prova degli Steel Cage: mi sento di dire che hanno passato la prova del Full, anche se, personalmente, credo che dovrebbero essere un po' più "incazzati". Come già detto, l'idea di questo concepì incentrato sull'ossidiana e la ripartenza del genere umano è decisamente ottima! Comunque sia, se siete amanti di sonorità Swedish (specie quelle dei primi The Haunted), "Obsidian" sarà un album che sicuramente vi piacerà, questo è poco ma sicuro!
Track by Track
The Destiny

55

Damned Soul

65

Silence's Scream

60

The Real Human Feeling

65

My Old Illusion

65

Just A Nightmare

60

Heretical Desire

55

Someone Lost Inside

65

The Storm

70

A Coin For Acheronte

70

Forsaken Past

65

Through Your Eyes

70
Giudizio Confezione
Qualità Audio:

75

Qualità Artwork:

70

Originalità:

70

Tecnica:

65
Recensione di
Lord Lucyfer

»
pubblicata il --. Articolo letto
1410
volte.
Articoli Correlati