AboryM «Generator» (2006)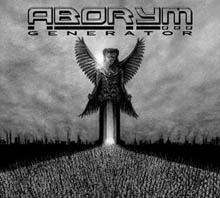 Autore:
BurdeN

»
Recensione Pubblicata il:
--
Visualizzazioni:
2086
Band:
AboryM







Titolo:
Generator
Nazione:
Italia
Formazione:
Malfeitor Fabban : basso/synth
Nysrok : chitarra/synth
Prime Evil : voce
Bard Faust : batteria
Genere:
Durata:
45'
Formato:
Data di Uscita:
2006
Etichetta:
Distribuzione:
---
Agenzia di Promozione:
---
Recensione
Il quarto sigillo è stato reso noto alla razza umana, si sta Generando il conto alla rovescia vero la nemesi, AboryM è tornato.
Sono stati abortiti dal nulla in modo bizzarro, ci hanno accompagnato in allucinanti passeggiate di fuoco senza alcun intervento umano, e ora generano e abortiscono davanti a tutti, con cinica e lucida freddezza la colonna sonora perfetta… a cosa vi starete chiedendo? Perfetta per quel attimo in cui ci si risveglia da una catastrofe nucleare, ma in questo caso non funge da mezzo musicale per enfatizzare la distruzione fisica dell'ambiente, serve a rendere concreta la presa di coscienza che il brutto è avvenuto, ma il peggio deve ancora arrivare… la fine della speranza.
Per rendere più concreto questo dolore "Generator" mette in mostra una decisa svolta in territori più umani, non sto dicendo ne standard, ne tanto meno sto riducendo il loro nuovo album ad un qualcosa di paragonabile alla media delle altre uscite discografiche in campo estremo (ma direi Metal in generale), vorrei più che altro sollecitare l'ascoltatore a fare caso come in questa nuova avventura a regnare siano si caratteristiche umane, ma quelle più morbose e perverse, disagio, malinconia, misticismo, buio… ma non disperatevi, AboryM si ricorda da dove viene, e quando è il momento esatto si serve anche delle sue armi migliori che risiedono nella sperimentazione, stavolta perfettamente integrata in tessuti sonori che spesso mettono in risalto curvature Death Metal che ricordano da vicino i migliori Morbid Angel.
L'elettronica come dicevo poco fa non è stata eliminata, è stata semplicemente ridimensionata, scordatevi quindi un nuovo "With No Human Intervention", troppo facile riscrivere un altro capolavoro dello stesso stile, non è nella natura camaleontica della band in questione, stavolta i deliri/delitti noise, ambient e industrial vanno più che altro a colorare di nero strutture musicali più smaccatamente metal, con il risultato di aver ottenuto un qualcosa di veramente asfissiante e distruttivo, "Suffer Catalyst", l'opener "Disgust and Rape (Sic Transit Gloria Mundi)" e "A Dog-Eat-Dog World" rendono bene quello che vi sto comunicando, anche se questo "Generator" non è un album che può essere suddiviso in capitoli come un comune disco, è un monumento al terrore che va assorbito in blocco.
Per quanto mi riguarda nelle soluzioni sperimentali della title track e di "Between Devil and Deep Blue See" (titolo e brano geniali) ho trovato sensazioni totalmente coinvolgenti, le aperture space/malinconiche della prima e la travolgente electro sul finire della seconda sono qualcosa di raro ultimamente nell'ambiente musicale in genere, e AboryM ne è uno dei pochi custodi e rappresentanti.
E' un'esperienza che deve essere vissuta concretamente quella del disco di cui vi sto parlando, ci sono casi in cui bastano due parole per descrivere e svelare un prodotto musicale, ma quando ci si trova dinanzi ad un lp come "Generator" la situazione si complica, i codici lessicali si riducono al minimo sindacale, le atmosfere emanate sono molteplici e profondissime, indescrivibili.
Sono al punto di lasciare a voi la possibilità di rovinarvi l'anima e giornate intere su questa nemesi sonora, a me non resta che ricordarvi la presenza in line-up di due Signori come Prime Evil (Mysticum) e Faust (ex-Emperor, Scum), è vero, l'abito non fa il monaco, AboryM non deve emanare fascino per le facce che contiene, ma per i risultati che ottiene, innovazione, freschezza, intelligenza, sperimentazione, sono anni che si dice che questo sia il futuro del metal estremo, non è più un futuro lontano, è il presente che si concretizza in queste quattro menti malate.
Per amare AboryM si deve odiare, chi ama Aborym vive in eterno.
Track by Track
Armageddon (Intro)

70

Disgust and Rape (Sic Transit Gloria Mundi)

80

A Dog-Eat-Dog World

85

Ruinrama Kolossal S.P.Q.R. (Satanic Pollution - Qliphotic Rage)

80

Generator

90

Suffer Catalyst

79

Between the Devil and Deep Blue See

95

Man Bites God

80

I Reject!

75
Giudizio Confezione
Qualità Audio:

85

Qualità Artwork:

90

Originalità:

90

Tecnica:

80
Recensione di
BurdeN

»
pubblicata il --. Articolo letto
2086
volte.
Articoli Correlati