Savior From Anger «Temple Of Judgment» (2016)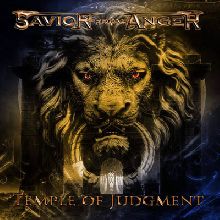 Autore:
reira

»
Recensione Pubblicata il:
22.04.2016
Visualizzazioni:
1562
Band:
Savior From Anger



Titolo:
Temple Of Judgment
Nazione:
Italia
Formazione:
Bob Mitchell – vocals
Mark Ryal – guitars
Frank Fiordellisi – bass
Michael Kusch – drums
Genere:
Power Metal
Durata:
48' 1"
Formato:
CD
Recensione
Come diceva Franco Califano: "Tutto il resto è noia, no, non ho detto gioia.".
Bene, questa semplice frase riassume la mia sensazione a seguito dell'ascolto di Temple of Judgment. Trattasi di un disco di una banalità assurda.
Delle undici tracce che compongono l'ultima "fatica" dei Savior From Anger, non me ne è rimasta impressa nemmeno mezza.
Ok, va benissimo la coerenza con il metal più macho, per così dire, ma per una band che non è proprio composta da novellini, ritengo che si poteva fare molto di più.
Titoli al limite della noia più totale (ancora Darkness, Shadows e Calling? Abbiate pietà), doppia cassa allo sfinimento, una voce che a tratti quasi fa venire l'emicrania.
Ora, sarà una questione di gusti personali, ma difficilmente sono così drastica e negativa.
I fans della band potrebbero anche accontentarsi, giusto perché sono tali.
Per gli altri...non posso che consigliare di ascoltare altro.
Qui non si trova nulla di nuovo o di creativo. Per trasmettere la propria passione e il proprio talento in quanto gruppo, ci vuole molto più impegno.
E ora insultatemi pure. Non mi interessa.
Track by Track
Across the sea

55

In the shadows

55

Bright darkness

55

The eye

55

Thunderheads

55

The chosen ones

55

The calling

55

Starlight

55

The eyes open wide

55

Repetence

55

Temple of judgment

55
Giudizio Confezione
Qualità Audio:

65

Qualità Artwork:

55

Originalità:

50

Tecnica:

55
Recensione di
reira

»
pubblicata il 22.04.2016. Articolo letto
1562
volte.
Articoli Correlati
Live Reports
Spiacenti!

Non sono disponibili Live Reports correlati.
Concerti
Spiacenti!

Non sono disponibili concerti correlati.