Endless Pain «Born in Violence» (2005)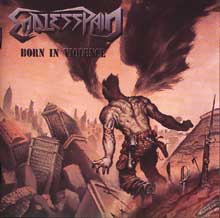 Autore:
FallenAngel

»
Recensione Pubblicata il:
--
Visualizzazioni:
2480
Band:
Endless Pain



Titolo:
Born in Violence
Nazione:
Italia
Formazione:
Juso :: voce
Beppe :: chitarra
Ste :: chitarra
Enrico :: basso
Gigi :: batteria
Genere:
Durata:
34' 49"
Formato:
Data di Uscita:
2005
Etichetta:
Distribuzione:
---
Agenzia di Promozione:
---
Recensione
"Born in violence" è il primo full-lenght degli Endless Pain, gruppo formato nel 2001 che si propone di suonare un thrash metal legato alle origini con chiare influenze di gruppi come Sodom, Destruction e Kreator.
Il cd presenta nove tracce di cui 5 nuove mentre 4 non sono altro che la rimasterizzazione di altrettante canzoni presenti nei loro precedenti due demo.
Sinceramente seguo gli Endless Pain già dal loro primo demo e ho sempre sostenuto che fosse un gruppo che aveva delle buone idee ma male sviluppate e speravo in una loro crescita nel futuro.
Questo "Born in violence" disillude tutte le mie aspettative; il cd è sicuramente ben curato sia dal punto di vista dell'artwork che dei suoni, ma non basta.
La band in questione infatti suona un thrash metal caotico senza un minimo di personalità; d'accordo l'influenza di gruppi come i Kreator che si nota in maniera palese in brani come "Psycopatic" e "Nuclear storm" che hanno alcune sonorità che ricordano molto quelle dei tedeschi di "Pleasure to kill", ma il tutto è troppo approssimativo, le chitarre sovrastano il resto e la voce, che spesso sfocia in uno scream black metal non è quasi mai all'altezza del compito che si è prefissato.
Unico brano veramente degno di nota risulta essere "Nam '67" ma solo per quanto riguarda le parti lente; quando la canzone si velocizza infatti, di quello che la band suona si capisce poco o niente diventando quasi grind core di quelli più esasperati.
Forse la band non ha capito che per esprimere potenza e suonare thrash non basta eseguire riff iper-distorti e ritmi di batteria velocissimi che alla fine sembrano tutti uguali e non lasciano trasparire un minimo di personalità.
Un accorgimento: per il prossimo lavoro curate maggiormente i suoni del rullante della batteri che in questo caso ricorda molto il suono di un fustino di detersivo.
In conclusione questo "Born in violence" è un mediocre cd che non riesce a catturare l'interesse dell'ascoltatore suscitando solo noia in quasi tutte le sue parti.
Nello sheet informativo chiedete di far recensire il cd ad una persona che ascolta thrash; ebbene io ascolto thrash da circa 15 anni e adoro le band a cui voi vi ispirate ma, lasciatemelo dire, il thrash, almeno a mio avviso, è tutt'altra musica.
Ribadisco il concetto che all'interno del cd qualche buona idea spunta fuori qua e là, ma deve essere sviluppata in maniera più precisa e meno caotica. Riconfermo la speranza di qualcosa di migliore per i vostri futuri lavori.
Track by Track
Nuclear storm

40

Psychopathic

35

Buried alive

45

Nam '67

55

Browning automatic rifle

48

Sentenced of hate

44

The 3rd antichrist

30

Angel of apocalypse

40

Holy beer

48
Giudizio Confezione
Qualità Audio:

50

Qualità Artwork:

60

Originalità:

25

Tecnica:

35
Recensione di
FallenAngel

»
pubblicata il --. Articolo letto
2480
volte.
Articoli Correlati