Saxon «Unplugged and Strung Up» (2013)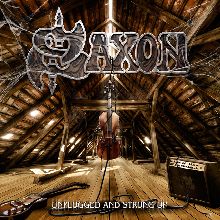 Autore:
Sonia Darkhaos

»
Recensione Pubblicata il:
01.03.2014
Visualizzazioni:
1744
Band:
Saxon


Titolo:
Unplugged and Strung Up
Nazione:
U.k.
Formazione:
Biff Byford- Vocals
Doug Scarrat- Guitar
Paul Quinn- Guitar
Nibbs Carter- Bass
Nigel Glockler- Drums
Genere:
Heavy Metal
Durata:
1h 4' 9"
Formato:
CD
Recensione
Saxon. Un nome, una garanzia. Il gruppo inglese capitanato da quel grande genio di nome Biff è ormai giunto al suo 28esimo anno di attività con un discografia di venti dischi in studio più raccolte, dischi live e addirittura un film-documentario (Heavy Metal Thunder).
"Sacrifice" uscito lo scorso anno per la UDR ha dimostrato ancora una volta come questi signori continuino ad essere seguiti ed amati dai Metalhead di mezzo mondo, grazie alla loro caparbietà e fedeltà all'Heavy Metal vecchia scuola.
Sempre nello stesso anno Biff & Company fanno uscire una compilation di classici Saxoniani remixati e rivisitati in chiave moderna.
"Unplugged And Strung Up" è un disco composto da 14 tracce che vanno da superclassici come "Crusader" e "Stallions Of the Highway" (dal leggendario primo e omonimo disco, classe 1979) a brani appartenenti ai dischi forse meno amati dallo zoccolo duro dei fan quali "Broken Heroes" (dal blasonato e criticato "Innocence Is No Excuse) che qua perde tutto il suo splendore per colpa di una versione scarna e poco entusiasmante in cui fanno capolinea stacchi sinfonici che a dirla tutta, ben poco ci incastrano nella musica del Sassone.
Il disco piace nella prima parte con brani tirati e impetuos come "Militia Guard" e "Battle Cry"ma comincia a vacillare verso la seconda metà con le rivisitazioni in chiave quasi Southern di "Frozen Rainbow" e "Iron Wheels" (qui anche in sede Live).
Per carità, i Saxon sono intoccabili (e la sottoscritta qua è un'accanita fan) ma era meglio se rimanevano a "Sacrifice" (bellissimo tralaltro) senza confondersi in assurde compilation pubblicate solo per vendere e per fare numero. La qualità dei brani comunque è buona e la produzione anche.
Promosso senza remore anche se con alcuni dubbi. Ma i Saxon sono sempre i Saxon. No?
Track by Track
Stallions Of The Highway

80

Crusader

60

Battle Cry

80

The Eagle Has Landed

75

Red Star Falling

75

Broken Heroes

65

Call To Arms

75

Militia Guard

75

Forever Free

80

Just Let Me Rock

65

Frozen Rainbow

60

Iron Wheels

60

Requiem

60

Coming Home

60
Giudizio Confezione
Qualità Audio:

90

Qualità Artwork:

85

Originalità:

70

Tecnica:

90
Recensione di
Sonia Darkhaos

»
pubblicata il 01.03.2014. Articolo letto
1744
volte.
Articoli Correlati