The Mugshots «Love, Lust and Revenge» (2013)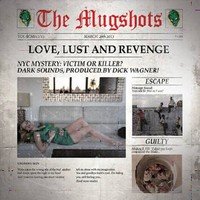 Autore:
Andreas X

»
Recensione Pubblicata il:
02.07.2013
Visualizzazioni:
1915
Band:
The Mugshots




Titolo:
Love, Lust and Revenge
Nazione:
Italia
Formazione:
Mickey Evil: Vocals & Keyboards
Erik Stayn: Keyboards
Eye-Van: Bass
Macfly: Guitar
Gyorg II: Drums
Genere:
Elitarian Undead Rock
Durata:
27' 59"
Formato:
CD
Recensione
The Mugshots è il nome di un quintetto bresciano attivo dal 2001 che, dopo due full lenght albums, presenta l'EP "Love, Lust And Revenge". Quello che propongono, è da loro definito "elitarian undead rock". Non chiedetemi il perché e il percome, io vi posso dire che la loro proposta mi sembra una via di mezzo tra Alice Cooper e le canzoni più tendenti al blues degli Aerosmith prima maniera, caratterizzate da un cantato che, se da un lato ricorda Alice Cooper, in alcuni punti qua e là ricorda, magari involontariamente, Mark Knopfler (sottolineo in alcuni punti qua e là, prima che mi diate del pazzo visionario.. anzi, è una caratteristica interessante secondo me).
Questo lavoro, costituito sostanzialmente da cinque ballads, tra cui si segnalano "Curse The Moon" e "Pass The Gun Around", è il risultato della collaborazione con Dick Wagner, storico chitarrista di Alice Cooper e collaboratore di, tra gli altri, Lou Reed ed Aerosmith (dicevamo dello stile?), e che in questo caso ha svolto il ruolo di arrangiatore, co-compositore e autore delle parti di chitarra solista.
i Mugshots, inoltre vantano il primato di essere la prima band europea ad essere prodotta da Dick Wagner, affiancato dal produttore associato Susan Michelson, ex-corista di Michael Jackson e l'opera è stata mixata nei prestigiosi Chaton Studios di Phoenix, Arizona, dal pluripremiato Otto D'Agnolo (Platinum Award Winning Producer & Engineer). Il mastering è stato curato dal dr. Gil Markle in Massachusetts, già collaboratore di Stevie Wonder, Aerosmith e Rolling Stones tra gli altri.
Ne è scaturita una produzione di qualità indubbiamente alta (e vorrei anche vedere) che però, sulla (seppur breve) distanza, tende ad essere complessivamente, se non sonnolenta, un pelino "annoievole" (mi si perdonerà la genesi ad hoc del termine). Di certo, adattissima per un film dalle trame "dark".. i brani di "Love, Lust And Revenge", infatti, sono presenti nella colonna sonora del thriller "Reversed" del regista canadese Vince D'Amato. Infine, la modella che figura sulla copertina del disco è l'americana Suzi Lorraine, attrice in produzioni horror internazionali e modella per l'originale guanto di "A Nightmare On Elm Street".
Che dire, un disco che può piacere e che, se non altro, merita di essere ascoltato per tutto quello che c'è dietro alla sua produzione. In fin dei conti, non capita spesso che una band italiana venga prodotta negli States da personalità di tale calibro. Onore al merito.

Track by Track
Nothing At All

60

Under My skin

60

Curse The Moon

65

Free (As I Am)

55

Pass The Gun Around

65
Giudizio Confezione
Qualità Audio:

95

Qualità Artwork:

60

Originalità:

60

Tecnica:

80
Recensione di
Andreas X

»
pubblicata il 02.07.2013. Articolo letto
1915
volte.
Articoli Correlati