Infernal Angels «Vigilia Secunda» (2003)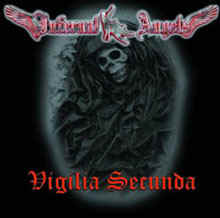 Autore:
Lord Lucyfer

»
Recensione Pubblicata il:
--
Visualizzazioni:
2668
Band:
Infernal Angels



Titolo:
Vigilia Secunda
Nazione:
Italia
Formazione:
Xes - vocals
Prince Of Tears - lead guitars
Sketron - guitars
Phobos - bass
Deimos - drums
Katia Ierace - guest female vocals
Genere:
Durata:
18' 16"
Formato:
Data di Uscita:
2003
Etichetta:
Distribuzione:
---
Agenzia di Promozione:
---
Recensione
Oh è che è? Finalmente mi è capitato di recensire un gruppo che suona un buon Black, con innesti anche sinfonici, senza che scopiazzasse spudoratamente dai Dimmu Borgir! Passando subito al dunque, secondo demo per i Blacksters Infernal Angels, dal titolo "Vigilia Secunda", un lavoro che porta alla mente, soprattutto, il Black/Death à la Dissection o Naglfar, ma che, come detto, per certi versi prende spunto anche dai migliori Dimmu Borgir.
Ricerca del suono accurata, riff spaccaossa che non risultano noiosi e scontati (in alcuni punti è possibile riscontrare dei riffoni in pieno stile Death Floridiano), il tutto impreziosito da un'ottima produzione, che, per quanto casereccia, risulta adattissima.
Il demo è composto da tre pezzi più l'immancabile intro strumentale sinfonicheggiante, che fa da preludio al pezzo che più mi è piaciuto del lotto, ossia "The Fallen Of Satan", impreziosito, nella fase centrale, da una parte sinfonica con la stupenda voce di Katia Ierace (presente coi suoi cori in quasi tutto il cd) a farla da padrone. "Aboroth" potrebbe benissimo uscire dalla discografia dei Naglfar, mentre la title-track è una degnissima conclusione per un demo più che buono!
In conclusione, davvero una buona prova da parte di questi ragazzi, capaci di essere estremamente versatili. Adesso aspettiamoli al varco col primo LP, che è attualmente in lavorazione.
Track by Track
Intro

60

The Fallen Of Satan

75

Aboroth

70

Vigilia Secunda

70
Giudizio Confezione
Qualità Audio:

70

Qualità Artwork:

70

Originalità:

65

Tecnica:

70
Recensione di
Lord Lucyfer

»
pubblicata il --. Articolo letto
2668
volte.
Articoli Correlati
Concerti
Spiacenti!

Non sono disponibili concerti correlati.