Death Mechanism «Demo» (2003)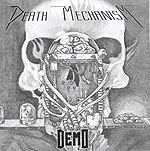 Autore:
HAUNTED

»
Recensione Pubblicata il:
--
Visualizzazioni:
2995
Data di Uscita:
2003
Etichetta:
Distribuzione:
---
Agenzia di Promozione:
---
Recensione
Beh.. nn me lo aspettavo, ma è davvero interessante questo cd dei Death Mechanism! Il demo composto a 4 tracce e' un lavoro molto pieno di idee composte in modo semplice ma di grande effetto. Non posso dire che siano dotati di molta originalità ma sicuramente di una gran tecnica e voglia di suonare! Il gruppo si ispira a un thrash death con influenze dagli Slayer agli At The Gates, ai Death. Lechitarre hanno un gran suono, e sicuramente vengono suonate con grande abilità, notevoli assoli e riff di qualità le distinguono molto. La voce è uno dei punti di forza del gruppo infatti il cantante ha una buona linea vocale capace di dare molto vigore al disco. Un punto debole invece sono i suoni di batteria che penalizzano la bravura del povero batterista un po incatenato da suoni che nn gli rendono giustizia... La produzione è buona, da migliorare alcuni suoni ma si sente che questi ragazzi vogliono suonare... e molto!
Non mi sento di fare un discorso track by track perchè comunque le canzoni seguono quasi tutte la stessa linea musicale (come ho detto prima peccano un po sull'originalià) ma cmq sono un gruppo molto valido che ha le idee chiare.
Track by Track
To Die From Their Birth

78

Horror Lab – Secret Lab

82

Hidden Ambition

85

War Mechanism

80
Giudizio Confezione
Qualità Audio:

80

Qualità Artwork:

76

Originalità:

75

Tecnica:

86
Recensione di
HAUNTED

»
pubblicata il --. Articolo letto
2995
volte.
Articoli Correlati