T-Mule «As It Is» (2012)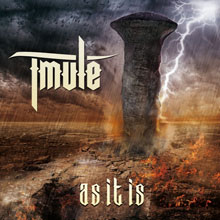 Autore:
Vincent

»
Recensione Pubblicata il:
--
Visualizzazioni:
2006
Band:
T-Mule





Titolo:
As It Is
Nazione:
Italia
Formazione:
Micoli - Voce
Teo - Chitarra E Cori
Elia - Chitarra
Baga - Basso E Cori
Fabio - Batteria
Genere:
Durata:
30' 53"
Formato:
CD
Data di Uscita:
2012
Etichetta:
Distribuzione:
---
Agenzia di Promozione:
---
Recensione
T-Mule – il mulo ti fa il culo! Nonostante sia da tempi remoti noto che è proprio l'animale da soma a portare i pesi e quindi a faticare, qui loro con un nome che richiama un noto programma per il download rivendicano il ruolo dell'ungulato. All'interno del book c'è anche una foto della terra mista a rocce a simulare un orifizio anale...ok ragazzi abbiamo capito, siete gente che ci vuole rompere il deretano! Devo dire che mi hanno interessato da subito dato che il disco inizia con la canzone "come cucinare una capra" e ha tra le varie tracce "G.A.I.A.", chiamata in causa molte volte nel 2012 per via della profezia Maya anche se qui piuttosto che la madre terra è un inno ad andare a prendersi le proprie ambizioni. I T-Mule nascono nel 2006/2007 ma solo ora vede la luce questo primo album, anticipato dall'uscita del singolo "How To Cook A Goat"; prima c'era stato solo un demo nel 2008 intitolato "Rejecting". Il disco parte alla grande, la canzone scelta come primo singolo per me è veramente azzeccata, ma la band sa come muoversi in ogni componimento adottando riff di chitarra molto ben suonati supportati da una sezione ritmica violenta e incalzante. Il seguito con "Deepthroat" è veloce con alternanza a parti più moderate molto ben studiate nel loro inserimento. In "Chaos" ho trovato veramente lodevole il suono del basso che spicca spesso con una sorta di slap e ritmiche di chitarra quasi ipnotiche. "Mush (Fuck You and Die)" è un invito all'headbanging con un doppio pedale martellante ed una voce molto aggressiva e coinvolgente. "Jack The Ripper", "New Rage" e "G.A.I.A. (Go And Invoke Ambitions)" restano sulla stessa linea e devo dire che l'attenzione non mi cala mai ascoltando i T-Mule, veramente gruppo di notevole capacità tecnica e compositiva. Poi arriva la traccia che non ti aspetti, o meglio con l'intro che non ti aspetti: "Wordless". Ti metti comodo e aspetti la fine del disco in tutta calma se non fosse che dopo 53 secondi sono di nuovo lì a picchiarci sulle orecchie. Pochi gruppi mi avevano fatto una così bella impressione al primo ascolto: questo thrash metal con dei tratti metalcore, con una voce che a volte rasenta il southern, è veramente una botta di vita. Un ottimo inizio per questo gruppo che, non ve l'avevo detto, arriva da Padova. Bravissimi ragazzi!
Track by Track
How To Cook A Goat

80

Deepthroath

75

Chaos

80

Mush (Fuck You And Die)

80

Jack The Ripper

75

New Rage

75

G.A.I.A. (Go And Invoke Ambitions)

70

Wordless

75
Giudizio Confezione
Qualità Audio:

80

Qualità Artwork:

75

Originalità:

85

Tecnica:

80
Recensione di
Vincent

»
pubblicata il --. Articolo letto
2006
volte.
Articoli Correlati