AA.VV. «Back On The Map Vol.1» (2012)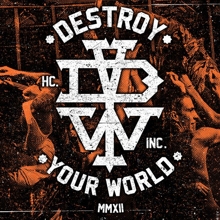 Autore:
Snarl

»
Recensione Pubblicata il:
--
Visualizzazioni:
1723
Band:
AA.VV.

Titolo:
Back On The Map Vol.1
Nazione:
Italia
Formazione:
Genere:
Durata:
59' 44"
Formato:
CD
Data di Uscita:
2012
Etichetta:
Distribuzione:
---
Agenzia di Promozione:
---
Recensione
La Destroy your music inc. prepara un bel sampler di bands hardcore chiamato "Back on the Map Vol.1", che consiste in 22 tracce di bands hardcore di vari tipi e provenienza (ma tutte italiane) in poco meno di un'oretta di musica.
Normalmente queste proposte discografiche sono apprezzabili, ma anche praticamente impossibili da recensire vista la diversità da band a band del materiale proposto. Si tratta praticamente di un cd facilmente ascoltabile e godibile, e perché no, utile se volete avere qualche nuovo nome dell'hardcore odierno da seguire, ma praticamente l'utilità di questo disco termina qui. Da fan dell'hardcore vecchia scuola posso dire di essere stato più impressionato dai primi nove gruppi, proponenti un hardcore più vecchia scuola e diretto, e di aver disdegnato di più i gruppi dal sound più moderno e melodico, tipo i Killjoy o i Rise After Defeat.
Da consigliarne l'ascolto ai fanatici e alle bands Hardcore principalmente. Per tutti gli altri, il download è gratuito.
Track by Track
Awaken Demons – Disease

65

Baseball Furies – Not alone

65

Don't forget – This is the time

65

Embrace Destruction – New world lies

70

Face Your Enemy – Do The Right Thing

65

Face the sirens – the reach

60

Grandtheftage – We Come From Your Hell

65

The Hardest Season – Confessions

65

Jungle Fever – Land of Controversy

60

Killjoy - Truth Is Raw

55

Locked In - The Rebellion

65

The Memory - The Lighthouse Keeper

60

My Own Prison – Confidence Gold

55

Payback – Italian Style

65

Reinforced Concrete - Black Swan

70

Rise After Defeat - Hold Fast

55

Startoday – Collapse

65

Strange Fear - Stop The Burning Wheel

65

Strength Approach - F.T.D.

65

Traces of You - Come True

65

Uprising - Political Laws

70

Whale's Island - The Reef

60
Giudizio Confezione
Qualità Audio:

65

Qualità Artwork:

65

Originalità:

65

Tecnica:

65
Recensione di
Snarl

»
pubblicata il --. Articolo letto
1723
volte.
Articoli Correlati
Interviste
Spiacenti!

Non sono disponibili Interviste correlate.
Live Reports
Spiacenti!

Non sono disponibili Live Reports correlati.
Concerti
Spiacenti!

Non sono disponibili concerti correlati.