Wind Rose «Shadows Over Lothadruin» (2012)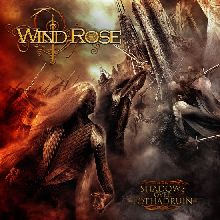 Autore:
MrSteve

»
Recensione Pubblicata il:
--
Visualizzazioni:
2248
Band:
Wind Rose




Titolo:
Shadows Over Lothadruin
Nazione:
Italia
Formazione:
Francesco Cavalieri - Voce
Daniele Visconti - Drums
Alessio Consani - Basso
Claudio Falconcini – Chitarre
Federico Meranda - Keyboards
Genere:
Durata:
1h 5' 4"
Formato:
CD
Data di Uscita:
2012
Etichetta:
Distribuzione:
---
Agenzia di Promozione:
---
Recensione
Mi risulta difficile apprezzare i gruppi che scelgono di inserire intermezzi, parlati o strumentali che siano. Tolti alcuni maestri del mestiere, sono passaggi che usati bene possono rendere interessante una canzone o spezzare il ritmo di un album, ma se abusati rendono l'ascolto particolarmente frustrante. So che sembra stupido far partire una recensione da questo punto, ma considerando che OGNI titolo tra parentesi di questo disco è un intermezzo (di cui un'introduzione orchestrale che ormai è diventata prassi comune nel mondo metal), e che il narrato fa più sorridere che esaltare, capite come mai ciò mi sia rimasto impresso.
Tolto questo, è un disco molto valido. Ma prima, vale la pena spendere due paroline sul gruppo: partito come cover band di prog e epic (Blind Guardian e Dream Theater, e si vede) in quel di Pisa, si è sviluppato ed evoluto fino ad arrivare alla formazione corrente e a partorire questo disco di debutto plasmato per benino da Cristiano Bertocchi, bassista dei Vision Divine. Dare una definizione precisa al genere è arduo, ma si tratta di certo di una matrice power su cui di volta in volta si impostano diverse influenze (principalmente sinfonico medievaleggiante e prog, ma non solo), tutte svolte in maniera più o meno convincente. La parte prog risulta quella più omogenea, usata come abbellimento e raramente in modo invasivo, mentre la qualità del sinfonico ha i suoi alti e bassi, passando da passaggi spettacolari a giri di archi piuttosto banalotti e dal timbro poco convinto (pochi, per la verità). Si segnala una voce pulita molto lavorata, tra sovrapposizioni e cori (anche se a volte un po' poco emotiva), delle ballad molto curate e alcune canzoni di lunga durata, un altro richiamo allo stile dei Rhapsody assieme all'idea di costruire una saga fantasy su cui basare l'album. Rispetto ai Rhapsody, tuttavia, l'atmosfera è molto più spostata verso il power che verso l'orchestrale, e le chitarre suonano spesso più cattivelle che barocche.
Un buon lavoro, studiato, lavorato e passionale, di cui l'unica vera pecca sono i troppi intermezzi e la lunghezza eccessiva delle canzoni, a volte esageratamente piene di roba che tende inevitabilmente ad annoiare. Se siete fan di uno qualsiasi dei gruppi citati, si tratta di un gruppo da controllare assolutamente, e anche in caso contrario, potrebbero riservare delle belle sorprese se sapranno intraprendere la strada giusta. Penso che li terrò d'occhio.
Track by Track
(Awakening)

70

The Endless Prophecy

85

(The Tournament)

60

Siderion

75

(The Grand March)

50

Son Of A Thousand Nights

75

The Fourth Vanguard

80

(Dark Horizons)

60

Majesty

75

(The Havoc)

60

Oath To Betray

80

Led By Light

85

(Sacred Fount)

60

Moontear Sanctuary

75

(Vererath)

60

Close To The End

80
Giudizio Confezione
Qualità Audio:

75

Qualità Artwork:

75

Originalità:

75

Tecnica:

85
Recensione di
MrSteve

»
pubblicata il --. Articolo letto
2248
volte.
Articoli Correlati