Trails of Sorrow «Languish In Oblivion» (2012)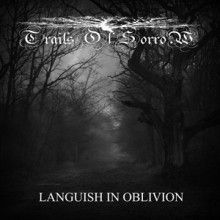 Autore:
Snarl

»
Recensione Pubblicata il:
--
Visualizzazioni:
1884
Band:
Trails of Sorrow



Titolo:
Languish In Oblivion
Nazione:
Italia
Formazione:
Friedrich Restless Soul :: Guitars, Synth & Programming
Dying Poet Of Funeral Litanies :: Lyrics, Vocals
Genere:
Durata:
54' 52"
Formato:
CD
Data di Uscita:
2012
Etichetta:
Distribuzione:
---
Agenzia di Promozione:
---
Recensione
Carino questo disco di debutto dei romani Trails of sorrow, band formatasi nel 2011 e che ci propone ciò che loro chiamano "Funeral Gothic Doom metal" con questo "Languish in oblivion", full length uscito per la Domestic Genocide records, inviluppato in una veste grafica gradevole e che condensa 7 canzoni + 3 intermezzi in quasi 55 minuti di musica. Ora, mi trovo d'accordo con la definizione del genere musicale della band fatta eccezione per il termine "gothic": qui di gothic non ce n'è traccia. Troverete strazianti litanie a pacchi grigie e depressive, ma non troverete aperture ariose tipiche di gruppi come My dying bride, Anathema, Pantheist e altri: qui il grigiore regna assoluto.
Detto questo, il cd è, come detto, carino e mostra una band che sa bene come creare moods asfittici ed oppressivi, ma come purtroppo capita sovente per le bands che si cimentano in questo genere (a mio avviso), i TOS fanno un full length decisamente troppo presto e senza la necessaria esperienza per i particolari, e per quanto il loro disco di debutto abbia i pregi suddetti, evidenti nella drammatica conclusione "Ora è la fine" o la iniziale "Dreams are dying" o "A grave of loneliness", ce ne sono altri che zavorrano la riuscita del disco, ovvero: anzitutto i suoni: nonostante non siamo di fronte a una qualità sonora domestica, ci sono comunque molte pecche. La chitarra poteva essere più satura di suoni e invece non morde come dovrebbe, il basso non emerge prepotente, la batteria è purtroppo una drum machine con dei suoni non finti ma comunque neanche qualcosa di speciale, e gli arrangiamenti di questo strumento hanno poca inventiva e originalità, mentre la tastiera propone ottime partiture, ma quando si tratta di riprodurre strumenti classici i campioni non sembrano buoni e si ha la netta impressione che siano finti anche quelli. Per la verità alle volte anche la tastiera stessa sembra finta e fatta al pc, ma non sono sicuro di questo. Il disco inoltre, presenta anche la pecca della troppa omogeneità: tutte le canzoni sono molto claustrofobiche e insistono sullo stesso mood, le chitarre non divagano e fungono più che altro da accompagnamento, e il risultato potrebbe non piacere a tutti.
Insomma: non una schifezza, tutt'altro, ma un disco che musicalmente mi piace anche se con un songwriting ancora in fase di sviluppo e una realizzazione tecnica del disco non altrettanto all'altezza della musica. Occorre più variazione, inventiva e rifinitura nei dettagli dei suoni. Il disco è consigliato comunque agli amanti del depressive. Provate a dargli un ascolto, potrebbe interessarvi.
Track by Track
Dreams are dying

70

Living as to Live is to Suffer

60

A grave of loneliness

75

Trees crying leaves

65

See my blood flowing

65

In luce

65

Suffering comes

60

Wonderful memories

65

A blinking shadow

65

Ora è la fine

75
Giudizio Confezione
Qualità Audio:

55

Qualità Artwork:

75

Originalità:

60

Tecnica:

65
Recensione di
Snarl

»
pubblicata il --. Articolo letto
1884
volte.
Articoli Correlati