Coram Lethe «Heterodox» (2012)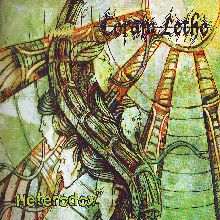 Autore:
Karmator

»
Recensione Pubblicata il:
--
Visualizzazioni:
2380
Band:
Coram Lethe




Titolo:
Heterodox
Nazione:
Italia
Formazione:
Francesco Miatto - Drums
Leonardo Fusi - Guitar
Filippo Occhipinti - Guitar
Federico Stiaccini - Bass
Gabriele Diana - Vox
Genere:
Durata:
48' 0"
Formato:
CD
Data di Uscita:
2012
Etichetta:
Distribuzione:
---
Agenzia di Promozione:
---
Recensione
E' il turno stavolta per i toscani Coram Lethe che con il nuoco album "Heterodox" ci regalano un altro lavoro ben fatto per il panorama death metal italiano. Già saliti su i più importanti palchi di festival metal nostrani (Total Metal Festival, Gods of Metal) e dopo aver condiviso il palco con band come Dark Funeral, Rage e gli immortali Dismember sembra che sia proprio l'ora di farsi notare bene dalla critica internazionale. Bene quindi questo quintetto ha delle buone carte in tavola per farsi scoprire e mettere in luce il loro potenziale.
Lascia un po' spiazzati l'opening track "Hypnomagik" che con sonorità orientali ci da l'input a questo Heterodox. 7 minuti di una buona miscela metal intrecciata tra parti più lente e doom ad altre veloci e tipiche death. Di sicuro, vi assicuro, che non tutto l'album si baserà su questa idea, anche se con una traccia così di benvenuto ha davvero il suo grand'effetto. Infatti già con "The Stench of Exinction" si fanno intendere per quello che sono. Minuti pieni di rabbia sparata a tutta velocità, giusto per farci tornare in carreggiata. La seguente "Where the Worms Crawl" riprende un pochino le idee di prima, messe però stavolta solamente in chiave death, non più orientale. Anche questa traccia lunga e intensa divisa in più parti tra spezzoni lenti e pieni di pathos ad altri semplicemente diretti e senza fronzoli. Anche con "Bare" la miscela non cambia. Altri 7 minuti intensi più tendenti al thrash metal con influenze prog ma con distorsioni taglienti tipicamente del metal estremo. Il tutto insieme ad un buon mix di linee vocali tra pulito e growl. Sostanzialmente la canzone non cambia moltissimo di sonorità, ma già il riff in sé è pieno di suoni e riff che la rendono molto variegata e particolare. Da sottolineare più volte è il bridge che è un viaggio mentale, prog metal davvero stupendo reso ancor più incredibile da un lavoro magnifico alle pelli. Passiamo poi a "The Anticompromise" che si mantiene su dei suoni abbastanza singolari, forse proprio questi l'anima della band. Poi via alla struttura centrale con un tappeto di doppio pedale e un buon riff di chitarre, e finalmente si ritorna a qualcosa più diretto e death, sempre mantenendo dei passaggi molto elaborati e ben strutturati. La sesta traccia "Light In Disguise" non si scosta molto dalla precedente, sembra quasi una traccia che ha mantenuto l'anima ma sta cercando in tutti i modi di darsi una propria fisionomia. E' vero che per ora le scelte stilistiche, anche se particolari e molto studiate, sono sempre le stesse. Non si può dire con facilità se ogni canzone ha un'impronta personale, è l'insieme di tutti gli elementi che globalmente rendono questo album ben fatto. Con "Waxed Seal" forse però qualcosa potrebbe cambiare. Un groove pesante e marcio che ci porta quasi sul pineta sludge metal, ma non preoccupatevi perché in pochi secondi atterriamo su quello death metal. Ma come sempre la scelta della suddivisione di un pezzo vi risulterà già sentita o comunque poco fantasiosa. Chiude "Monolith Radiant" che riprende il suono orientale della prima per salutarci come dei beduini in viaggio verso una meta sconosciuta tra le alte dune del deserto.
Intendiamoci bene signori, il lavoro qui propostoci è davvero geniale, ben suonato e studiato, ben registrato, ottime idee e ottimi riff, buone linee vocali e tecnica che prolifica su ogni componente della band. Ma, e c'è sempre un ma, l'intreccio di ogni canzone è praticamente la stessa e in ognuna di essa manca di personalità, sono collegate una all'altra e non sempre saper suonare come un Dio è portatore di positività nell'elaborazione delle tracce. Per carità bisognerebbe inginocchiarsi davanti ai Coram Lethe per questo album davvero ottimo, nel complesso, ma nello specifico, nell'ascolto di ogni singola canzone in modo attento e critico vi accorgerete che alla fine il modo di suonare è sempre lo stesso.
Track by Track
Hypnomagik

85

The Stench of Extinction

80

Where the Worms Crawl

80

Bare

90

The Anticompromise

85

Light In Disguise

80

Waxed Seal

80

Monolith Radiant

95
Giudizio Confezione
Qualità Audio:

85

Qualità Artwork:

85

Originalità:

75

Tecnica:

90
Recensione di
Karmator

»
pubblicata il --. Articolo letto
2380
volte.
Articoli Correlati