A Total Wall «Incide» (2011)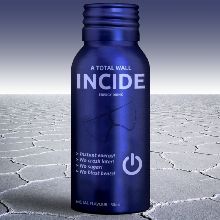 Autore:
Barbaro

»
Recensione Pubblicata il:
--
Visualizzazioni:
1636
Band:
A Total Wall



Titolo:
Incide
Nazione:
Italia
Formazione:
Umberto Chiroli - Guitars
Davide Bertolini - Drums, Vocals
Genere:
Durata:
28' 0"
Formato:
CD
Data di Uscita:
2011
Etichetta:
Distribuzione:
---
Agenzia di Promozione:
---
Recensione
La band A Total Wall nel 2011, come successore di True Fear, producono Incide. Un disco, che gia' dalla copertina: una bevanda energetica su un suolo desertico, sembra essere il degno successore del primo lavoro che gia' mi aveva lasciato un'ottima impressione. Anche qui, tutto il lavoro, l'energia e la cura nei dettagli e' frutto delle capacita' di Umberto e Davide i due che gia' con True Fear avevano tracciato un sentiero ben definito che andava verso un death ruggente ma tecnico.
L'evoluzione di Incide sta nel cantato che si apre anche verso un pulito che contrasta efficacemente con l'aggressivita' pur sempre melodica della chitarra e l'incisivita' della sezione ritmica. Ma le novita' si notano anche negli stessi arrangiamenti di chitarra che sembra liberarsi in un certo senso dalla compattezza di True Fear per aprirsi verso arpeggi puliti e assoli piu' melodici e taglienti.
Anche questa volta i pezzi non sono molti, giusto cinque, tanto per completare l'altro antipasto pregustato con il predecessore di Incide, ma sufficenti a delineare e fortificare le intenzioni compositive del duo Umberto e Daniele.
Resuscitator ha un inizio davvero impressionante e succulento, un riff davvero trascinante che sfocia in velocita' per tornare su tempi pesanti e cantato growl.
Incide, con i suoi tempi dispari, continua la strada aperta da Resuscitator e da' spazio a un cantato pulito molto piacevole e pertinente col resto del pezzo che offre anche un assolo articolato che, come dicevo prima, ammorbidisce in un certo modo, la precedente pesantezza del riff. E' poi l'arpeggio di Unexpected, la fase davvero inaspettata. Un'arpeggio pulito che fa da intro a un altro pezzo veramente articolato, con un cantato che passa dal growl al pulito dando aria a una parte melodica davvero notevole e piena di pregio.
Particolare anche l'attacco del riff di No Error ma la chiusura affidata a To Do e' quella che mi convince maggiormente. Un piglio davvero intrigante che si sviluppa anch'esso su melodie e tempi diversi con i sempre piu' convincenti passaggi di pulito di voce che in un certo senso offuscano il growl per quanto sono precisi e estesi.
Per gli A Total Wall ribadisco quello che avevo gia' detto col disco precedente: questi ragazzi hanno carattere e una fantasia compositiva non comune che si concretizzano in una produzione anche questa volta eccelsa e danno davvero la spinta necessaria per un pubblico che potrebbe anche non essere piu' limitato al fan dei Meshuggah.
Track by Track
Resuscitator

75

Incide

75

Unexpected

80

No Error

75

To Do

85
Giudizio Confezione
Qualità Audio:

90

Qualità Artwork:

75

Originalità:

75

Tecnica:

90
Recensione di
Barbaro

»
pubblicata il --. Articolo letto
1636
volte.
Articoli Correlati