Onicectomy «Drowning for salvation» (2012)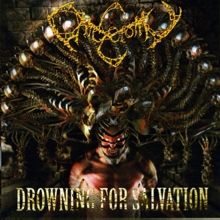 Autore:
Snarl

»
Recensione Pubblicata il:
--
Visualizzazioni:
1793
Band:
Onicectomy



Titolo:
Drowning for salvation
Nazione:
Italia
Formazione:
Klaudio Bojaxhiu :: Bass
Giovanni Scarnera :: Drums
Valerio Palumbo :: Guitars
Angelo Sergio :: Guitars
Savino Zaza :: Vocals
Genere:
Durata:
26' 33"
Formato:
CD
Data di Uscita:
2012
Etichetta:
Distribuzione:
---
Agenzia di Promozione:
---
Recensione
Tornando gli Onicectomy, brutal death/grind metal band da Bari abbastanza giovane, la cui differenza principale tra il vecchio disco degli Onicectomy (da me recensito) è la seguente: nel vecchio disco c'era una buona produzione ma delle chitarre che si sentivano solo quando facevano gli armonici, mentre ora abbiamo delle chitarre ascoltabili, ma che comunque ringhiano in sottofondo, con batteria e voce nettamente predominanti!
Sappiamo tutti che in questo genere non si può e non si vuole pretendere chissà quale invenzione artistica, ma gli Onicectomy continuano a rimanere una band che insiste con questi suoni di chitarra poco intelleggibili, che effettuano sì riff articolati e pieni di note, tipo i Brutal truth più violenti o i Suffocation più lineari, ma che praticamente non propongono molto altro, a parte dei momenti slam buoni da live ma non da studio proprio per i motivi suddetti di registrazione. Tutto questo rende il debut cd "Drowning for salvation" non brutto, anzi volendo può piacere agli amanti dei grind più casinaro e ignorante, ma poco o nient'altro offre: niente grooves trascinanti, niente passaggi un po' diversificati, niente riffs che non prendano le tre corde più basse della chitarra, niente: la monodirezionalità più assoluta, il cui highlight del disco è la title track conclusiva, che offre assolutamente più variazione e mette anche le chitarre un po' più in mostra.
La domanda è: questo basta? Dipende da voi: per me, è un risultato non brutto, ma neanche è da comprare a tutti i costi. Dischi più vivaci di songwriting in giro ce ne sono anche a livello underground, e il motivo per cui bisognerebbe comprare questo disco rispetto ad altri rimane un mistero per me, come un mistero è accorgermi di qualche differenza rispetto al loro precedente disco. La sufficienza sotto riportata significa che consiglio il disco agli amanti di certo death/grind grezzo tipo Last Days of Humanity e gruppi così, con la chitarra poco intellegibile e senza troppa cura che non sia quella di tritare le ossa, ma solo a loro. Io per me, passo oltre.
Track by Track
Brain Pressure Breaking Skull

65

Burned Heart Extirpation

65

Tears Purifying Ways of Scarifice

65

Huma Flesh Dressing

65

Virgin Women Cannibalistic Ritual

65

I Hope You Die

60

Sins Piercing Impaled Wombs

65

Falling to the Cannibal Butchery

65

Drowning for Salvation

70
Giudizio Confezione
Qualità Audio:

55

Qualità Artwork:

70

Originalità:

60

Tecnica:

65
Recensione di
Snarl

»
pubblicata il --. Articolo letto
1793
volte.
Articoli Correlati