Serenade «Wandering Through Sorrow» (2012)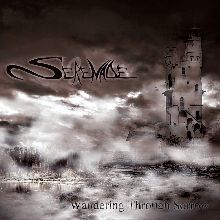 Autore:
MrSteve

»
Recensione Pubblicata il:
--
Visualizzazioni:
2592
Band:
Serenade




Titolo:
Wandering Through Sorrow
Nazione:
Italia
Formazione:
Claudia Duronio - Vocals
Andrea Bazzon - Guitars
Filippo Miatto - Guitars
Dario Dugo - Bass & Growls
Alessandro Moro - Keyboards
Federico Bressan - Drums
Genere:
Durata:
53' 21"
Formato:
CD
Data di Uscita:
2012
Etichetta:
Distribuzione:
---
Agenzia di Promozione:
---
Recensione
Di solito, quando scrivo recensioni, spingo sempre un po' verso l'alto. Cerco di guardare a un gruppo nel modo più obiettivo possibile, perché so bene che nel giudicare la musica una buona parte delle impressioni è dovuta ai personali gusti di chi ascolta, e che spesso i gruppi vengono rivalutati col tempo. Sinceramente, i Serenade non mi sono piaciuti del tutto.
Ma andiamo con ordine.
Partendo dalla descrizione del gruppo, siamo di fronte al symphonic metal dalla voce femminile classica e alcune (rare) entrate maschili in growl, reso famoso dagli Epica. Già, gli Epica. Ecco il problema principale: il gruppo sembra ispirarsi a loro in maniera esagerata, ma senza la necessaria fantasia per distaccarsene ne per scrivere qualcosa che resti impresso fortemente nella memoria. Manca l'istinto per l'hook che rende grande la canzone, l'elemento accentratore che fa urlare e cantare il pubblico. Senza, nonostante tutti i violini e le trombe, i titoli in latino e le canzoni divise in parti, la musica viene dimenticata nel momento stesso in cui l'altoparlante si spegne.
Si avverte anche un certo eccesso di semplicismo. Ci sono orchestrazioni, ma troppo spesso manca la complessità di un'orchestra: raramente ciò che fanno non può essere sostituito da una tastiera, e chitarre e batteria, sebbene non commettano nessun errore in tutto l'album, non hanno nessun innalzamento esecutivo o virtuosismo, mostrando spesso una tecnica basilare e poco ispirata. La voce, per quanto tecnicamente inattaccabile, non ha quasi mai momenti di grande espressività, restando quasi sempre sul livello di piattezza lirica.
Però non voglio dare un'idea sbagliata, non siamo di fronte a un fallimento. La qualità di produzione è ottima, e ci sono alcuni momenti e ritmiche relativamente entusiasmanti, anche se spesso sono portato a chiedermi se alcune cose non le avessi già sentite. Inoltre, si avvertono nella voce alcuni piccoli spunti di maturazione a livello interpretativo che fanno ben sperare per il suo evolversi musicale.
Un peccato a metà. Se il gruppo in futuro deciderà di spingere più sulla propria originalità e meno sul cercare di assomigliare a gruppi più grandi di loro, potrebbero raggiungere dei buoni risultati. Intanto, se vi piace il sinfonico restano un buon ascolto casuale.
Track by Track
The Agony of Feeling Lost

70

Cruel Angels

65

Animadversio Debita

70

Mors Tua Vita Mea

65

The Fruit of the Poisoned Tree

70

A Promise

60

War of Feelings (Victims of Love pt.1)

60

Love is a Slayer (Victims of Love pt2)

60

Doomed to Slavery (Victims of Love pt.3)

65

Tears of Blood (Victims of Love pt.4)

60

Seldom Seen, Soon Forgotten (Victims of Love pt.5)

60

Bonus Track: The Path of Agony

60
Giudizio Confezione
Qualità Audio:

80

Qualità Artwork:

80

Originalità:

60

Tecnica:

65
Recensione di
MrSteve

»
pubblicata il --. Articolo letto
2592
volte.
Articoli Correlati