The Burning Dogma «Cold Shade Burning» (2012)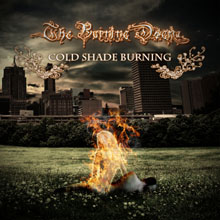 Autore:
Snarl

»
Recensione Pubblicata il:
--
Visualizzazioni:
2099
Band:
The Burning Dogma



Titolo:
Cold Shade Burning
Nazione:
Italia
Formazione:
Joy Lazari - Voce
Maurizio Cremonini - Chitarra
Diego Luccarini - Chitarra
Davide Laugelli - Basso
Giovanni Esposito - Tastiera
Marco De Crescenzo - Batteria
Genere:
Durata:
25' 52"
Formato:
EP
Data di Uscita:
2012
Etichetta:
Distribuzione:
---
Agenzia di Promozione:
---
Recensione
Il sestetto Bolognese The burning dogma ci propone 3 tracce più intro più outro come debutto assoluto, un debutto in poche parole convincente perché la band mostra sin da subito classe e personalità. Anche loro, insieme a un gruppo recensito in questa sede di recente, fanno qualcosa di riconducibile al doom death metal, ma qui la proposta è nettamente valida, e spazia molto sapientemente tra parti doom arpeggiate e oniriche molto debitrici ai Dolorian (L'inizio di "A dogma to burn" si rifà vistosamente alla title track di "When all the laughter has gone") e alcune parti gothic, salvo poi cambiare coordinate sonore con riffs molto stoner rock e assoli in pieno stile Zakk Wylde con tanto di wah wah a rendere il tutto più vibrante. E non è finita qui: aggiungeteci parti più sporadiche di death/groove e death melodico, e come ciliegina sulla torta, aggiungete un'ottima amalgama dei generi e un buon livello di registrazione, molto adatta a far risaltare sia gli assoli che le parti arpeggiate, che qui costituiscono il punto di forza del gruppo.
Come inizio non è male, il materiale qui proposto è un po' esiguo, e anche se l'intro e l'outro sono suonati e anch'essi degni di rilievo, non possiamo sbilanciarci più di tanto sulle parole per descrivere il gruppo. Sappiamo soltanto che se apprezzate lo stile di Zakk Wylde, magari più metallizzato, lo stoner più vicino a certo metal estremo e anche certa malinconia del doom/death questo gruppo fa per voi. Da seguire con attenzione.
Track by Track
Dark Horizon Approaching

75

A Dogma to Burn

75

Her Body Cold

80

The Fourth Shade

75

The Burning Town

65
Giudizio Confezione
Qualità Audio:

75

Qualità Artwork:

65

Originalità:

80

Tecnica:

75
Recensione di
Snarl

»
pubblicata il --. Articolo letto
2099
volte.
Articoli Correlati