MirrorMaze «Walkabout» (2012)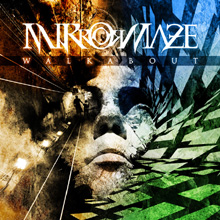 Autore:
Barbaro

»
Recensione Pubblicata il:
--
Visualizzazioni:
1855
Band:
MirrorMaze



Titolo:
Walkabout
Nazione:
Italia
Formazione:
Fabio D'amore - Vocals
Davide Penna - Guitar
Sam Lanfranchini - Keyboards
Juan Manuel Savoini - Bass
Fabio Nauselli - Drums
Genere:
Durata:
1h 4' 29"
Formato:
CD
Data di Uscita:
2012
Etichetta:
Distribuzione:
---
Agenzia di Promozione:
---
Recensione
I Mirrormaze sono una band che suona dal 2008 e che raggiunge la formazione attuale dopo il cambio di alcuni elementi e che da sempre e' stata indirizzata verso sonorita' progressive.
L'album di prossima uscita Walkabout raccoglie molti elementi da band prog, prime su tutte Dream Theater e Fates Warning, ma possiede anche un suo spirito che lo allontana dai canoni del genere e lo rende originale e in un certo senso interessante anche a quelli che storcono il naso sui tempi dispari.
La cura sulla produzione e' maniacale, i suoni sono profondi e cristallini, non a caso affidati a Staffan Karlsson, gia' cesellatore di dischi di molti altri artisti internazionali quali Stevie Wonder, Nathan East, Earth Wind & Fire, The Roxette and Firewind presso i Landgren Studios 5.1, in Svezia e la stessa copertina, curata e studiata da Gustavo Sazes , rinominato gia' disegnatore per ARCH ENEMY, MANOWAR, ANGRA, denota che nulla e' lasciato al caso e che i Mirrormaze si sono voluti presentare al pubblico, che obiettivamente e' sempre piu' esigente, con tutte le carte in regola.
L'apertura e' affidata al pezzo Prisoner che denota subito un livello di esecuzione che si distanzia dal prog canonico e che spazia verso sonorita' piu' aggressive pur rimanendo melodiche e strutturate. La conferma viene con Earn Your Answer, anch'esso corposo, prog e aggressivo. Ma e' l'arpeggio iniziale di Lost in a Belief che fa innamorare: onirico e evocativo, la voce di Fabio entra perfetta e si colora nel crescendo del pezzo che nonostante i quasi dieci minuti di durata scorre armonioso e modulato, senz'altro uno dei miei preferiti del disco. Disco che viene ulteriormente arricchito dalla voce di Ray Adler (Fates Warning) nell'altrettanto interessante Deeper Signs. In questo pezzo, in cui quasi invidio l'emozione che si puo' provare nel cantare in coppia con uno dei cantanti che ha influenzato i tuoi gusti musicali, le due voci viaggiano assieme senza che nessuna prevalichi l'altra in un intreccio acustico che da' ulteriore valore alle capacita'di Fabio.
Il brutto di riuscire a creare pezzi cosi' alti sta pero' nell'altrettanta difficolta' nel rimanere nel livello precedente. Walkabout, nonostante le tematiche e gli ottimi arrangiamenti, non arriva alla magia di Deeper Signs che rimane insieme a Lost in a Belief il mio pezzo preferito.
Dopo Missing, pezzo quasi di collegamento, arriva la conclusiva Broken Soul ricca suite di oltre nove minuti che va a chiudere un disco notevole e che e' il giusto premio alla fatica.
Track by Track
Prisoner

70

Earn Your Answer

70

Vicious Circle

70

Lost in a Belief

90

Joke

70

Deeper Signs

90

Walkabout

85

Missing

80

Broken Soul

85
Giudizio Confezione
Qualità Audio:

90

Qualità Artwork:

80

Originalità:

80

Tecnica:

85
Recensione di
Barbaro

»
pubblicata il --. Articolo letto
1855
volte.
Articoli Correlati