Kissin' Dynamite «Money, Sex And Power» (2012)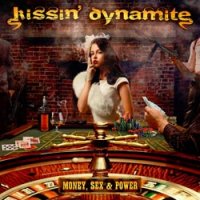 Autore:
Dust

»
Recensione Pubblicata il:
--
Visualizzazioni:
1641
Band:
Kissin' Dynamite




Titolo:
Money, Sex And Power
Nazione:
Germania
Formazione:
Steffen Haile Bass
Andreas Schnitzer Drums
Jim Müller Guitars
Ande Braun Guitars
Johannes Braun Vocals
Genere:
Durata:
40' 32"
Formato:
CD
Data di Uscita:
2012
Etichetta:
Distribuzione:
---
Agenzia di Promozione:
---
Recensione
I Kissin' Dynimite sono una band Heavy Metal/Hard Rock che negli ultimi anni ha praticamente spopolato in Europa e in particolare nella loro Germania, tanto da poter leggere accostamenti anche troppo audaci da molti addetti stampa, basti pensare al più volte citato "La miglior band tedesca dai tempi degli Edguy". Francamente, mi sembra un paragone che dire esagerato è poco, segno inconfondibile di un radicato protezionismo della stampa per i proprio gruppi "Made in Germany", aspetto che come ho più volte espresso, manca troppo nell'ambiente Metal italiano, che in questo caso, avrebbe molto di meglio da proporre.
Venendo al disco "Money, Sex And Power ", risulta complessivamente un buon lavoro Hard & Heavy, con riff serrati di chitarra, tempi tirati al drumming e una voce che ricorda a tratti Axl Rose e ogni tanto Bruce Dickinson; il tutto miscelato in un mix di sound veramente ottimo (come vuole tradizione AFM Records) che conferisce una qualità audio di altissimo livello, ma oltre questo, la musica offerta è ben poco interessante: composizioni estremamente scontate e poco originali rendono i quaranta minuti di ascolto un po' faticoso; soprattutto perchè si sparano le cartucce migliori nei primi brani, tra i quali spiccano "Money, Sex and Power" dove una voce suadente sussurra un sarcastico "bunga bunga", una tirata "I Will Be King " dai toni troppo Hair Metal, che francamente cozza molto con le sonorità presenti in tutto il disco, anche se questa componente risulta essere pesantemente radicata nella band, per poi andare a perdersi in brani banali come "Club 27" con ovvi riferimenti alla scomparsa di noti musicisti sotto le parole "the age we gonna die".Di sicuro molti defender di generi di fatto superati, che hanno esaurito tutto quello che avevano da dire nell'arco di massimo dieci anni prenderanno molto a male questa recensione, ma come ho già detto, nel complesso è un disco passabile, capace di assicurarsi la sufficienza, ma per una band capace di far parlare così tanto di se, è sicuramente troppo poco, quindi mi sento di consigliarlo solo ai nostalgici di melodie Hairy style e pochi più.
Track by Track
Money, Sex & Power

75

I Will Be King

70

Operation Supernova

60

Sex Is War

65

Club 27

65

Dinosaurs Are Still Alive

65

She´s A Killer

55

Sleaze Deluxe

60

Ego-Shooter

55

Six Feet Under

55
Giudizio Confezione
Qualità Audio:

80

Qualità Artwork:

70

Originalità:

45

Tecnica:

75
Recensione di
Dust

»
pubblicata il --. Articolo letto
1641
volte.
Articoli Correlati