Norhod «Arianrhod» (2012)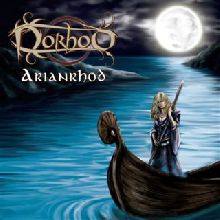 Autore:
MrSteve

»
Recensione Pubblicata il:
--
Visualizzazioni:
1639
Band:
Norhod







Titolo:
Arianrhod
Nazione:
Italia
Formazione:
Clara - Vocals
Jev - Growl
Giacomo -guitars
Bistru - Guitars
Michele - Keyboards
Matteo - Bass
Francesco - Drums
Genere:
Durata:
21' 30"
Formato:
CD
Data di Uscita:
2012
Etichetta:
Distribuzione:
---
Agenzia di Promozione:
---
Recensione
Immaginate una linea.
Unica, dritta e possente, cade dal cielo attraverso le nuvole e il rumore dei fulmini e colpisce in pieno questo album, dividendolo a metà per la sua lunghezza e in tutte le sue parti. È un'immagine retorica, ma descrive chiaramente la situazione, visto che sembra quasi che la caratteristica principale di Arianrhod sia di essere diviso a metà in ogni aspetto in cui esso possa essere considerato.
A partire dal genere, quel tipo di metal tanto (ma tanto) imitato che prevede la divisione delle linee vocali tra una acutissima ed elegante voce femminile ed un rozzo e brutale growl maschile, si nota come la divisione in due parti contrapposte sia (involontariamente) il filo conduttore dell'intera opera prima dei Norhod, che non potevano scegliere un modo più controverso per presentarsi al grande pubblico. Così, ad esempio, dove abbiamo delle tastiere pulitissime, con una composizione molto ragionata e un mixaggio fantastico (l'intro ne è un fulminante esempio), abbiamo dall'altro lato delle chitarre e una batteria che sembrano provenire dallo scantinato di oscuri blackster della provincia norvegese quanto a qualità audio, togliendo molta forza al disegno complessivo.
Il contrasto è pesantissimo: sembra di sentire un treno contro una zanzara. Il che è un peccato, perchè le parti di batteria e chitarra sono composte molto bene e con la giusta esposizione ed equalizzazione potrebbero ribaltare l'impatto delle canzoni, e soprattutto degli assoli, le parti che più soffrono questa trascuratezza. La divisione vale doppiamente per le voci, scritte, inserite e alternate magistralmente, come richiede il genere, ma con bisogno di un pochino più di studio, inteso sia di registrazione che della tecnica (ammetto però di essere influenzato dall'ascolto di gente come Tarja Turunen o Simone Simmons, a cui comunque la voce si ispira in maniera palese), e continua con il genere, che si alterna altalenando tra il metal sinfonico più classico e quello più folk/medievaleggiante (confrontate gli inizi di Doomed to Oblivion e Last Sundown e capirete cosa intendo), richiamandosi volentieri a Rhapsody, Epica e Nightwish, e in un paio di occasioni quasi citando i Dream Theater (non so quanto intenzionalmente).
Alla fine di tutto questo discorso sulle divisioni, però, bisogna collocare il fatto nel suo contesto: Arianrhod è il primo demo autoprodotto di un gruppo con solo due anni di vita alle spalle e parecchie sostituzioni tra le sue file. Sotto questa prospettiva, è un punto d'inizio incredibilmente entusiasmante: la speranza è che, nel passaggio verso un album completo, siano in grado di assicurarsi una produzione migliore e di assicurare una unità concettuale a un progetto che ha le potenzialità per fare scintille.
Track by Track
Caer Arianrhod

75

Doomed to Oblivion

75

Lily's Ashes

70

Last Sundown

75

Arianrhod

75
Giudizio Confezione
Qualità Audio:

65

Qualità Artwork:

75

Originalità:

75

Tecnica:

80
Recensione di
MrSteve

»
pubblicata il --. Articolo letto
1639
volte.
Articoli Correlati