Paradise Lost «Paradise Lost» (2005)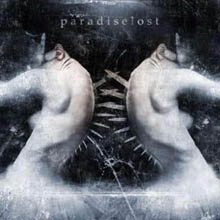 Autore:
Belial

»
Recensione Pubblicata il:
--
Visualizzazioni:
897
Band:
Paradise Lost



Titolo:
Paradise Lost
Nazione:
Inghilterra
Formazione:
Nick Holmes :: Vocals
Gregor Mackintosh :: Guitars
Aaron Aedy :: Guitars
Stephen Edmondson :: Bass
Jeff Singer :: Drums
Genere:
Durata:
56' 6"
Formato:
Data di Uscita:
2005
Etichetta:
Distribuzione:
---
Agenzia di Promozione:
---
Recensione
Signore e Signori, ecco a voi i Paradise Lost, intenso e vissuto gruppo della UK in attivita' sin dal 1988 :D Se gia' conoscevate i Paradise, e ne avevate un parere vi consiglio unicamente di cancellare questo parere e ripartire da 0, cambio di marcia, cambio di rotta, cambio di genere..
Io gia' conosco i Paradise Lost dal 1997, anno di uscita di One Second e li ascoltai anche in occasione di Host del 1999, prima proponendo un genere progressivo accostato a dei climax ambient, io li accomunerei senza voler troppo tirarmi le ire dei critici ai piu' famosi (in quanto a genere progressivo e psichedelico) Sigur Ṛs, ora l'equipe diretta alla voce dal nostro amico Nick parte in 5° con un sound Death Gothic abbastanza sparato..
e voi vi chiederete xke' "abbastanza"? Per il motivo che pur essendo una ritmicita' carica di chitarra e di drum non e' ancora abbastanza matura (secondo il mio modesto parere) per essere un vero e proprio Death, a prescindere dal fatto che Nick usi ancora multieffetti per dare peculiarita' alla propria voce e ancora non si cimenti ne' nel growl ne' nello scream..
Pero' questo "esperimento" c'e' da dar plauso al fatto che riesco a creare un climax sonoro in piena armonia con i testi, da notare le sonorita' di Don't Belong, Accept the Pain e Spirit.. un po' di vena "violenta" come piace al sottoscritto c'e' in Over the Madness
Do' nota particolare a Forever After, gioco di parole? strana intro gothic con voce femminile? c'e' qualcosa di cio' che penso io? voi chiaramente non riuscite a capire ne' il senso delle mie parole ne' potete dare una risposta a primo acchitto.
Vi do' un consiglio reperite, Host e One Second e poi ascoltate questo nuovo lavoro, e date voi per una volta la risposta alla mia domanda :)
Vi Auguro buon ascolto con questo mix fra Sonorita' Death ma ancora quel vecchio sapore di Psichedelico che li caratterizzava una volta'.
Track by Track
Don't belong

85

Close your eyes

85

Grey

80

Red shift

85

Forever after

90

Sun fading

85

Laws of cause

80

All you leave behind

80

Accept the pain

85

Shine

85

Spirit

85

Over the madness

90
Giudizio Confezione
Qualità Audio:

80

Qualità Artwork:

90

Originalità:

80

Tecnica:

80
Recensione di
Belial

»
pubblicata il --. Articolo letto
897
volte.
Articoli Correlati