Betrayers «Spaghetti Intifada» (2011)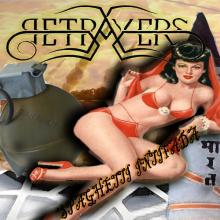 Autore:
Dust

»
Recensione Pubblicata il:
--
Visualizzazioni:
1527
Band:
Betrayers



Titolo:
Spaghetti Intifada
Nazione:
Italia
Formazione:
Francesco Ghezzi – Voce
Marco Tidu – Chitarra
Alessio Sanguineti – Batteria
Luca "low" Scovazzi – Basso
Genere:
Durata:
51' 45"
Formato:
CD
Data di Uscita:
2011
Etichetta:
Distribuzione:
---
Agenzia di Promozione:
---
Recensione
I Betrayers nascono nel 2008 da un'idea del chitarrista Marco Tidu e del batterista Alessio Sanguineti,ai quali si aggregano il cantante Francesco Ghezzi e il chitarrista Davide Bettinelli con l'idea chiara fin dall'inizio di suonare un rock'n'roll grezzo e potente, inizialmente influenzato da gruppi come Black Label Society e Down. Dopo numerosi cambi di line up soprattutto al basso, nel 2011 esce il primo disco della band, 'Spaghetti intifada' completamente autoprodotto registrato e mixato presso i Quake Studios Di Pier Gonella.
Tutto il disco suona veramente molto ruvido, sia per le sonorità proposte, sia per lo stile seguito dalla band: oltre ai grandi gruppi già citati, possiamo sentire influenze che vanno dai Pride and Glory, Lynyrd Skynyrd fino a comprendere elementi blues abbastanza standard. Per quello che rigurada l'aspetto compositivo, non siamo su livelli stellari per originalità, però quasi tutti i pezzi scorrono molto bene alternando ottimi riff a intermezzi melodici lead o completamente dimezzati. Sia voce, ritmiche e linee di batteria sono abbastanza ben strutturate complessivamente e le idee ci sono; purtroppo però non vengono valorizzate da una produzione di buon livello: alcuni passaggi di batteria sono decisamente fuori tempo, così come poteva essere concesso più spessore agli assoli che suonano un po' secchi e al basso che resta un po' nascosto da chitarre leggermente impastate. Tutti questi elementi penalizzano abbastanza la caratura del lavoro sotto gli aspetti di qualità audio, ma il buon giudizio che mi ero fatto sul disco rimane invariato. A presentare questo CD, c'è una grafica decisamente retrò, che richiamano le vecchie locandine di 'B Movies' alla Tarantino e Rodriguez che sinceramente mi piace molto, sia per gusti personali, sia per l'adatto accostamento di musica e artwork. Per il futro della band sicuramente possiamo sperare in molti miglioramenti, tutti incentrati nella produzione che potranno sicuramente dare alla band molte soddisfazioni.
Track by Track
Spaghetti intifada

65

Black label

70

Freedom

60

Downheaven

65

Blue eyes

65

Creature of the night

60

New morning

65

wrangler rockstar

70

Sail away

65

Bad again

65
Giudizio Confezione
Qualità Audio:

60

Qualità Artwork:

70

Originalità:

65

Tecnica:

70
Recensione di
Dust

»
pubblicata il --. Articolo letto
1527
volte.
Articoli Correlati