Tales of Deliria «Beyond The Line» (2011)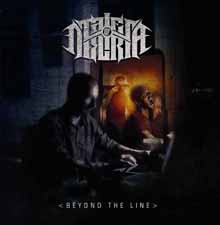 Autore:
Susie Ramone

»
Recensione Pubblicata il:
--
Visualizzazioni:
2366
Band:
Tales of Deliria




Titolo:
Beyond The Line
Nazione:
Italia
Formazione:
Vittorio "orion" Bilanzuolo, Vocals; Nicolò "brado" Cantatore, Guitars; Francesco "v" Picciariello, Guitars; Ale Fornari, Drums; Francesco Patruno, Bass.
Genere:
Durata:
36' 0"
Formato:
CD
Data di Uscita:
2011
Etichetta:
Distribuzione:
---
Agenzia di Promozione:
---
Recensione
I cambi di batteria eseguiti con sapiente maestria, che sfiora la perfezione tecnica. L'armonia delle chitarre - thrash quella ritmica e neoclassica quella solista - che guida e struttura i brani. Una trama sonora, questa, impreziosita da uno scream morbido, che vira con fluidità e disinvoltura al growl, nei momenti cruciali. E' il sound dei Tales of Deliria, band made in Bari, che ha pubblicato a novembre del 2011, per l'etichetta To React Records, il nuovo lavoro "Beyond the line". Accolto positivamente dalla critica e dalla stampa specializzata, l'album segna una svolta stilistica dei Tod, che arricchiscono la loro matrice thrash con un sound più marcato, più death metal. In particolare melodic death metal, così come viene definito il "Gothenburg sound" degli svedesi Dark Tranquillity, In Flames e At the Gates. I Tales of Deliria giungono alla formazione definitiva dopo vari cambi di line-up: al nucleo principale formato dal cantante Vittorio - Orion- Balanzuolo e dal chitarrista Nicolò -Brado- Canatatore si aggiungono infatti Francesco -V - Picciariello alla chitarra, Ale Fornari alla batteria e Francesco Patruno al basso. E soprattutto, raggiungono la maturità tecnico-artistica anche attraverso una congrua attività live che li porta a dividere il palco con band del calibro di Rage, Deicide, Belphegor e nel 2011 a Bari con i gloriosi Coroner.
Beyond the Line si apre con il brano Under this Shroud, che già reca l'essenza delle canzoni successive: la batteria aggressiva, forsennata anzi; la particolarità dello scream sinuoso di Orion e i pregevoli cambi di chitarra dai tempi perfetti. Segue il brano che da il titolo all'album, Beyond the Line: un brano in puro stile swedish melodic metal, con scale di chitarra, melodiche appunto, che strutturano la song oltre ad essere inserite su rutilanti ritmi da pogo e su scream/growl rabbiosi.
La terza traccia, Towards North, appare estremamente ispirata, e arricchisce ad ogni nuovo ascolto: gli assoli di chitarra iniziali si snodano in una struttura complessa e cangiante, che rimane chiara, pulita, essenziale. E, dunque, incisiva. Le canzoni successive, In my Dry Reliquary e The Anguish Fixer, risultano invece più lente, morbide, con assoli di chitarra "ordinati", inseriti al momento giusto e la consueta perfezione che contraddistingue i cambi di chitarra (fil-rouge di tutto l'album). Gli assoli melodici di chitarra continuano a impreziosire i brani, fino ad arrivare ad Attack, una canzone ispirata che trasuda rabbia e devastazione negli assoli di batteria e in cui la tecnica del chitarrista solista si dipana in tutta la sua peculiarità, così come nella penultima traccia. A chiudere l'album dei Tod un brano struggente, epico, ispiratissimo, dai ritmi scatenati fin dall'incipit: "Ethereal Warrior II".
Track by Track
Under this Shroud

75

Beyond the Line

80

Towards North

90

In my Dry Reliquary

75

The Anguish Fixer

80

One Thousand Ways to Die

85

A Snatched Love

75

Attack

85

Ethereal Warrior

85

Ethereal Warrior II

85
Giudizio Confezione
Qualità Audio:

70

Qualità Artwork:

75

Originalità:

75

Tecnica:

80
Recensione di
Susie Ramone

»
pubblicata il --. Articolo letto
2366
volte.
Articoli Correlati