Signs Preyer «Signs Preyer » (2012)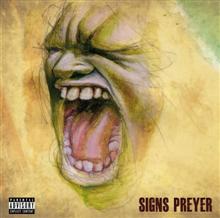 Autore:
carnival creation

»
Recensione Pubblicata il:
--
Visualizzazioni:
2019
Band:
Signs Preyer





Titolo:
Signs Preyer
Nazione:
Italia
Formazione:
Corrado Giuliano :: Vocals
Enrico Pietrantozzi :: Guitar
Andrea Vecchione Cardini :: Bass
Giacomo Alessandro :: Drums
Genere:
Durata:
42' 46"
Formato:
CD
Data di Uscita:
2012
Etichetta:
Distribuzione:
---
Agenzia di Promozione:
---
Recensione
Questa energica combo di Orvieto l'avevamo già incontrata nel loro iniziale exploit omonimo contenente sei brani proposti in pre-produzione ancora da limare e dalla resa ancora troppo grezza ma che ci offriva un interessante spunto di riflessione sulla indubbia validità dell'operato dei Signs Preyer.
Eccoli di nuovo a distanza di non troppo tempo e addirittura freschi di firma per la Red Cat Records, etichetta che ovviamente non si è lasciata sfuggire l'occasione di inserire nel suo roster una macchina sforna-groove come i nostri.
E' stato davvero un grande piacere per me poter dare un ascolto all'omonimo disco di debutto (in prossima uscita ufficiale). Si evincono moltissimi perfezionamenti, ora la questione si è fatta molto più matura, più professionale e dotata di una produzione veramente eccellente che proviene dal Bonsai Recording Studio della città natale della band che, lo ricordiamo, non ha mai effettuato cambi di line-up e questo ha certamente influito sulla stabilità del lavoro di squadra che genera un "corpus sonoro" costituito dalla forte unione di quattro giovani talentuosi.
L'Heavy classico è sempre presente ma si fa un po' da parte per permettere all'influenza Southern Rock/Metal di sposarsi egregiamente con quel Groove Metal dal vago sapore Rock 'n' Roll energico e accattivante sopra cui si muovono vocalismi ormai sicuri ed ispirati. Alle volte Corrado Giuliano mi ricorda lontanamente il caldo flow di Mark Knopfler ma i passaggi più carismatici ormai sono di casa e ciò ha influito anche sulla resa degli altri strumenti portando ad un sound più personale.
Parlare dei Signs Preyer significa parlare di una band che crede fortemente in ciò che fa e la dimostrazione l'abbiamo in ogni brano di questi tre quarti d'ora scarsi tra cui brillano particolarmente la title-track dal sensazionale solo di chitarra, "Dark Soul", "Just To Kill You" e sicuramente "Painless Pain", brani in cui escono fuori con naturalezza tutte le grandi potenzialità e il grande carisma del quartetto.
I riff e il drumming hanno acquistato molta più precisione ed il lavoro certosino che ha preceduto "Signs Preyer" sta dando sicuramente i suoi frutti.
Non restano che l'orgoglio e i miei migliori auguri per il futuro inoltre ora che questo fiore è sbocciato mai abbassare la guardia!

Track by Track
Anger

70

Bitch Witch

75

It Comes Back Real

75

Just To Kill You

80

Killer Instinct

70

Painless Pain

75

Dark Soul

80

Hell

70

Signs Preyer

85
Giudizio Confezione
Qualità Audio:

85

Qualità Artwork:

70

Originalità:

70

Tecnica:

80
Recensione di
carnival creation

»
pubblicata il --. Articolo letto
2019
volte.
Articoli Correlati