Drakkar «When Lighting Strikes» (2011)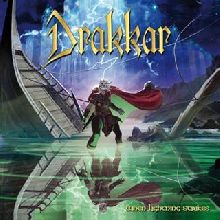 Autore:
Zoro

»
Recensione Pubblicata il:
--
Visualizzazioni:
1749
Band:
Drakkar



Titolo:
When Lighting Strikes
Nazione:
Italia
Formazione:
Dario Beretta - Guitar
Dave Dell'orto - Vocals
Corrado Solarino - Keyboards
Simone Cappato - Bass
Genere:
Durata:
56' 0"
Formato:
CD
Data di Uscita:
2011
Etichetta:
Distribuzione:
---
Agenzia di Promozione:
---
Recensione
Ritorno in pista per i Drakkar, che giocano le carte della tecnica e dell'ambizione in questo nuovo When Lighting Strikes, concept album che racconta un odissea fantascientifica a bordo di antiche astronavi aliene, sorretta sulle note di un power a cavallo tra Italia e Germania (non sempre dal sound non si direbbero italiani), sporcato di thrash e di divagazioni progressive e sinfoniche, in cui le tastiere tirano in causa anche strumenti inusuali per il genere (bello l'hammond di The Armageddon Machine). Una musica che aspira ad essere epica ed evocativa, e ci riesce benissimo, regalandoci atmosfere solenni e cariche di immagini, che si delineano vivide davanti a noi se solo chiudiamo gli occhi.
I problemi della musica di When Lighting Strikes, sono quelli del power con ambizioni: il caricare la musica di virtuosismo e progressione, spesso la priva dell'immediatezza sulla quale di solito il genere basa il suo successo (nonostante più o meno la totalità dei pezzi siano improntati al ritornello incisivo), e alcuni pezzi risentono di questa mancanza di immediatezza, e fanno rimpiangere le band del genere (le composizioni di Luca Turilli su tutte), in cui tecnica e orecchiabilità si amalgamano senza grumi. Sarei un infame a dire che la musica contenuta in questo When Lighting Strikes sia brutta, o poco curata, semplicemente si inserisce in un filone già ben consolidato senza apportare grosse novità, relegandola ai soli fan del power. E poi l'album ha il grande pregio di essere un concept di power metal, pur senza contenere noiose divagazioni orchestrali e parti recitate (quelle con cui i Rhapsody ci hanno annoiato negli ultimi album, per intenderci).
In sostanza un disco gustoso, una buona prova di mestiere, in cui ogni ingranaggio è al suo posto e ben oliato, che non stupisce ma intrattiene benissimo chiunque ami il power nella sua accezione più evocativa, quando ha una storia da raccontare.

Track by Track
Hyperspace - The Arrival

65

Day of the Gods

65

The Armageddon Machine

70

In the Belly of the Beast

70

Revenge Is Done

70

When Lightning Strikes

75

Winter Soldiers

70

Salvation

70

At the Flaming Shores of Heaven

70

We Ride

65

The Awakening

65

My Endless Flight

75

Aftermath - The Departure

65

Engage!

70

New Frontier

70
Giudizio Confezione
Qualità Audio:

80

Qualità Artwork:

70

Originalità:

70

Tecnica:

80
Recensione di
Zoro

»
pubblicata il --. Articolo letto
1749
volte.
Articoli Correlati