Natron «Livid Corruption» (2004)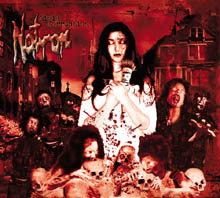 Autore:
Lord Lucyfer

»
Recensione Pubblicata il:
--
Visualizzazioni:
2659
Band:
Natron


Titolo:
Livid Corruption
Nazione:
Italia
Formazione:
Max Marzocca - batteria
Mike Tarantino - voce
Domenico Mele - chitarra
Michael Maggi - basso
Genere:
Durata:
29' 0"
Formato:
Data di Uscita:
2004
Etichetta:
Distribuzione:
---
Agenzia di Promozione:
---
Recensione
Tornano con il quarto album una delle band più leggendarie del panorma Brutal Death nazionale: i baresi Natron, che, dopo il disco per la celebrazione del decennale di carriera, "Necrospective", danno in pasto ai fans un album tutto nuovo, che rinnova il loro regno di brutalità, "Livid Corruption".
La band di Max Marzocca mette sul piatto un platter che (per me) è quasi al pari del fantastico "Negative Prevails". "House Of Festering" da' il via al massacro: un pezzo violento, sbattuto 'on your face' con la solita incredibile carica della band di Giovinazzo. "Livid" è altrettanto potente, ma a colpire, ed è una consuetudine se si parla dei Natron, è la velocità aggiunta ad una precisione a dir poco chirurgica. Altri pezzi degni di nota sono "One Step In Jurder", soprattutto per via di un'inquietante intro, "Hatemunger", "White Worms", una sorta di 'riposo per l'ascoltatore' questa bellissima strumentale, e la seguente Nyctophobic.
Per quel che concerne la conclusiva "The Dead Rise Above" credo di non avere parole, posso solamente cercare di darvi un consiglio: ascoltatela!!
I Natron, dunque, tornano decisamente a far danni: "Livid Corruption" può esser preso d'esempio da altre bands Brutal. E' difatti il classico esempio di come si può sopperire alla mancanza di originalità (dovuta dal genere stesso, sia ben chiaro), dando fondo ad ogni minima fonte di energia. Se la band barese è in giro da così tanti anni un motivo ci sarà: ed ascoltanto questo loro ultimo album, s'intuisce perchè! Picchiano come mastri ferrai e, soprattutto, riescono a non annoiare, cosa che accade spesso ascoltando tale genere. Tritacarne
Track by Track
House Of Festering

90

Livid

85

Red Creeps

85

One Step In Murder

80

Hatemunger

85

Flatline

80

White Worms

90

Nyctophobic

85

The Dead Rise Above

90
Giudizio Confezione
Qualità Audio:

85

Qualità Artwork:

85

Originalità:

60

Tecnica:

90
Recensione di
Lord Lucyfer

»
pubblicata il --. Articolo letto
2659
volte.
Articoli Correlati