Mothercare «The Concreteness Of Failure» (2010)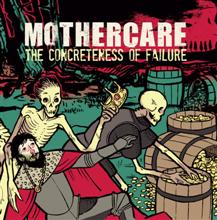 Autore:
carnival creation

»
Recensione Pubblicata il:
--
Visualizzazioni:
1816
Band:
Mothercare




Titolo:
The Concreteness Of Failure
Nazione:
Italia
Formazione:
Simone Baldi :: vocals
Rudy Pellizzon :: guitar
Mirko Nosari :: guitar
Fabiano Andreacchio :: bass
Mauro Zavattieri :: percussions
Marco Piran : drums
Genere:
Durata:
41' 48"
Formato:
CD
Data di Uscita:
2010
Etichetta:
Distribuzione:
---
Agenzia di Promozione:
---
Recensione
"The Concreteness Of Failure" è uno di quei dischi che ti rimane impresso nella mente per tanti motivi, oltre la buona originalità. primi tra i quali la tecnica e la produzione che riesce con naturalezza a valorizzare tutta quella furia che regna sovrana per i quaranta minuti abbondanti del platter.
E' la terza release di una Band con la B maiuscola, gruppo attivo fin dal lontano 1994 e che ne ha davvero viste di cotte e di crude all'interno della formazione, arrivando a sostituire anche elementi interni ma che ha avuto l'onore di collaborare con figure leggendarie del metal estremo come, ad esempio Mark Greenway (voce dei Napalm Death) e altrettanti guests oltre che accompagnare in tour gli stessi Napalm Death nel 2003.
La band ha all'attivo diversi demo e due buonissimi album ("Breathing Instructions" e "Traumaturgic") e solo ora è riuscita ad arrivare al traguardo del terzo e acclamatissimo full-lenght che appare fin da subito come l'immagine di un pugno in piena faccia per via della violenza e dei temi (interessanti tra l'altro) affrontati nel disco.
Inutile ribadire che si tratta di un sestetto palesemente incline alla tecnica perché sarebbe alquanto inutile ritornare a smontare e rimontare ogni traccia alla ricerca di riff originali (qui ce ne sono comunque), drumming che non ricordi nient'altro e vocalismi degni di un camionista inquieto, qui il discorso si fa più ampio, più ricercato: i nostri suonano una sorta di Thrash/DeathCore con poderose influenze Nu-Metal provenienti un po' ovunque ma senza ricordarle mai direttamente. E' una musica assassina, fortemente ritmica e pregna di intrecci è vero, ma è anche ragionata e frutto di una fortissima dose di creatività che non lascia certo pensare che i Mothercare siano una band non matura, tutt'altro!
Tra mosh che ci fanno venire voglia di headbanging naturalissimo e ritmiche dinamiche assolutamente perfette, il tutto si muove con una rabbia e una voglia di brutalità infinite. Ottima la voce ma ottimo anche tutto il resto.
Difficile che ricordino qualche altra band nota, tutt'al più qualche pizzico di Lamb Of God e i primi (e migliori) Slipknot, quelli cioè che utilizzavano anche le percussioni all'interno di impianti Nu-Thrash-Death, cosa che di fatti viene ripetuta nei Mothercare ma senza eccedere in continui ed inutili tributi.
C'è maturità, voglia di spaccare e soprattutto buona musica. Fate vostro questo disco e supportateli invece di andare a ricercare chissà cosa in chissà quali altri album di band estere che suonano sempre uguali!

Track by Track
The Art of Diplomacy

80

The Slow and Proud March to Conformity

90

To Be Or To Sink

80

Ten Easy Lessons

80

Blessed Be The Useless

85

Gateway To Extinction

95

Mother

90

Phobic

90

The Concreteness of Failure

65

Uncontrolled Hatred

70
Giudizio Confezione
Qualità Audio:

90

Qualità Artwork:

65

Originalità:

70

Tecnica:

90
Recensione di
carnival creation

»
pubblicata il --. Articolo letto
1816
volte.
Articoli Correlati