Delirium X Tremens «Belo Dunum, Echoes From The Past» (2011)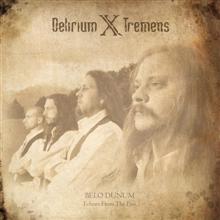 Autore:
carnival creation

»
Recensione Pubblicata il:
--
Visualizzazioni:
2435
Band:
Delirium X Tremens








Titolo:
Belo Dunum, Echoes From The Past
Nazione:
Italia
Formazione:
Ciardo :: Vocals, Guitar, Flute
Med :: Guitar
Pondro :: Bass
Thomas :: Drums
Guests:
Andrea De Sois :: Choir
Fabio Sparano :: Contrabass
Lorenzo Baldan :: Solos On Track 6, Choir
Marino De Angeli :: Guitar
Pacolo Mecca :: Accordion, Choir
Genere:
Durata:
41' 53"
Formato:
CD
Data di Uscita:
2011
Etichetta:
Distribuzione:
---
Agenzia di Promozione:
---
Recensione
Ho tra le mani l'ultimo lavoro dei Delirium X Tremens e, non appena ho dato uno sguardo all'artwork, ho compreso di trovarmi di fronte una band profondamente mutata rispetto al precedente ben acclamato "Crehated From NO_Thing" (2007). Saranno i cinque anni di silenzio discografico ad aver reso possibile un così radicale cambiamento? Non lo so e non mi interessa. Ciò che è importante è che i nostri siano tornati più forti e motivati che mai a proporci il loro death metal di altissima qualità sempre tendente a lasciarsi influenzare da qualsivoglia altro genere musicale e in quest'occasione i DXT hanno progettato ed ultimato un capolavoro, forse migliore del precedente, anche se sono due dischi di difficile comparazione nonostante lo stile resti quasi invariato tranne l'evidente impoverimento dei riff per dare spazio ad una ragionata sottrazione di elementi sonori arrivando così ad un concept altamente valido (anche se da affrontare mediante molti ascolti). Possiamo considerare il disco come un lavoro di squadra per raggiungere una precisa essenza, un'incessante ricerca che va a incontrare la furia di un death metal selvaggio, caldo e brutale (qui valorizzato da una produzione assolutamente perfetta) e momenti di un angoscioso cammino verso una spiritualità costituita di riflessioni inconfutabili cui la band si è così profondamente cimentata.
"Belo Dunum, Echoes From The Past" è un album coraggioso e orgogliosamente saldo alle radici di una montagna, e appunto il concetto di quest'ultima si erige come da pilastro per quasi buona parte delle tematiche affrontate. Non occorre essere convinti alpini per poter apprezzare la stupenda e suggestiva "Artiglieria Alpina" e nemmeno teologi per lasciarsi coinvolgere dalla tecnica e incattivita "33 Days Of Pontificate (Vatican Inc.)" così come è impossibile non abbandonarsi al particolarissimo trittico finale di brani "Vajont, 9 Ottobre 1963" diviso in tre eccezionali tracce in cui fa la sua comparsa un'assolutamente atipica fisarmonica in mezzo alla cieca furia di blast beat incessanti e martellanti che uniscono "Life Before Nothing" a "Scream Of 2000 Screams" mentre una commovente chiusura con "The Memory" ci lascia terminare il disco con evanescente malinconia e una leggera dolcezza. Non appena l'album termina, il desiderio di ricominciare da capo l'ascolto è forte, devo ammettere.
Il quartetto bellunese è riuscito nell'impresa di contribuire alla riconsiderazione dello stesso concetto di death metal, qui portato a livelli di infinita ricercatezza ed eleganza, spogliato di tanti inutili elementi, dovuti all'ingenuità (e se leggerete l'emozionante aforisma di Mauro Corona, contenuta nella metà del libretto del disco comprenderete meglio ciò che intendo).
C'è la montagna, ci sono i Delirium X Tremens, c'è della buona musica. Vi consiglio di acquistare immediatamente questo album. Vale la discografia di almeno dieci band più note, credetemi.
Track by Track
I Was

85

Teveròn, The Sleeping Giant

90

The Legend Of Càzha Selvàrega

90

Artiglieria Alpina

100

The Guardian

90

33 Days Of Pontificate (Vatican Inc.)

90

An Old Dusty Dream

80

Vajont, 9 Ottobre 1963 - Life Before Nothing

95

Vajont, 9 Ottobre 1963 - Scream Of 2000 Screams

100

Vajont, 9 Ottobre 1963 - The Memory

90
Giudizio Confezione
Qualità Audio:

90

Qualità Artwork:

80

Originalità:

95

Tecnica:

90
Recensione di
carnival creation

»
pubblicata il --. Articolo letto
2435
volte.
Articoli Correlati