From The Depth «Back To Life» (2011)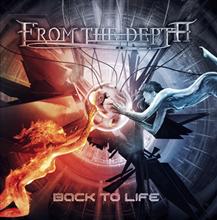 Autore:
carnival creation

»
Recensione Pubblicata il:
--
Visualizzazioni:
1834
Band:
From The Depth



Titolo:
Back To Life
Nazione:
Italia
Formazione:
Raffaele Albanese :: Vocals
Alessandro Cattani :: Guitars
Alessandro Karabelas :: Bass
Davide Castro :: Keyboards
Cristiano Battini :: Drums
Genere:
Durata:
47' 58"
Formato:
CD
Data di Uscita:
2011
Etichetta:
Distribuzione:
---
Agenzia di Promozione:
---
Recensione
Vivere un sogno poi darsi un pizzicotto su di un fianco e scoprire che invece è la più dolce delle realtà, ecco come se la stanno passando i parmigiani From The Depth, nostra vecchia conoscenza, oserei dire "nemmeno tanto vecchia" in quanto lo scorso anno ci arrivarono belli belli sulla nostra scrivania con il loro primo demo EP "The Will To Be The Flame", grandissima prova di una band che ce ne avrebbe fatto vedere delle belle. Avevo previsto che sarebbero tornati più carichi che mai, magari con un debut-album, e in effetti così è stato, a distanza di un solo anno, un solo anno per essere chiamati direttamente dall'etichetta inglese Rising Records. Occasione sprecata? Nemmeno un po'! Novello contratto alla mano e tanta voglia di fare sono le due grandi novità in casa "From The Depth", oltre all'ovvio dato di fatto di aver registrato un prodotto più che invidiabile.
Parlare musicalmente dei FTD significa parlare di tecnica, precisione e tantissima passione, triumvirato visto anche sotto forma di band nuova nelle scene, lo scorso anno, eppure in questo 2011 si aggiungerà anche un quarto elemento: la professionalità, sì, perchè i nostri che vantano già un non indifferente seguito in Italia, stanno iniziando ad uscire da essa e ad esplorare sempre di più. Con un disco simile, sfido io la stessa Rising Records a non puntare su questa incredibile combo di cinque ragazzi che, esperienza dopo esperienza, sembrano migliorare ancora di più; e non è che fossero partiti da un livello così basso, credetemi!
I buonissimi brani contenuti in "Back To Life" sono la conferma di ciò che è giusto che faccia il suo corso: ottime melodie, ottimo mood di interpretazione e una produzione più che discreta che riesce a valorizzare ogni singolo strumento. I molti assoli tra basso, chitarre e tastiere (di gran fattura, per altro) non fanno che rendere ancora più dinamiche le già dinamiche canzoni nelle quali sono facilmente rintracciabili anche i brani che hanno composto il vecchio EP, stavolta riguardate al meglio, limate alla perfezione e inserite saggiamente in questo full-lenght. La stella del disco, a mio avviso, è la splendida "The Will To Be The Flame", stavolta ancora più suggestiva in tutta quella eleganza di sound targata From The Depth, sound generale che mi fa venire in mente i migliori Sonata Arctica e Stratovarius ma la band ivi recensita sa bene come esternare la sua arte costruendola con una buona dose di personalità, per cui non abbiate timore di trovarvi di fronte all'ennesimo disco power metal in quanto così proprio non è. Ci sono canzoni da brivido e far rizzare i peli delle vostre braccia senza che voi possiate fare nulla per evitarlo, ad esempio l'intensa "The Cruel Kindness" e la più misurata ma passionale "Nenia" (che proprio nenia non è, poi) costituita per il 90% da voce e tastiera sui si innestano ogni tanto gli altri strumenti.
E' un disco ricercato e finemente ultra-melodico oltre che dotato della splendida ed espressiva ugola di Raffaele Albanese, qui all'apice della forma e contornato da una "squadra" di capaci musicisti, qui migliorati, evoluti, cresciuti.
Un sound maturo pur essendo il primo album. Come si fa a dirgli di no? Grandissimi From The Depth! L'avevo detto io!
Track by Track
Back To Life

65

Live For Today

75

Our Music Our Souls

75

Don't Forget Who You Are

80

Lack Of Emotion

70

The Will To Be The Flame

85

The Cruel Kindness

80

You Just Have To FLy

80

Straight To The Source

70

Nenia

85

Nothing To You

70

Leading My Essence Above All

80
Giudizio Confezione
Qualità Audio:

75

Qualità Artwork:

70

Originalità:

70

Tecnica:

75
Recensione di
carnival creation

»
pubblicata il --. Articolo letto
1834
volte.
Articoli Correlati