Neroargento «Three Hours Of Sun» (2011)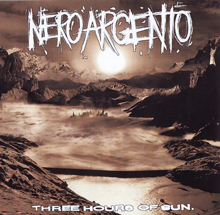 Autore:
carnival creation

»
Recensione Pubblicata il:
--
Visualizzazioni:
1607
Band:
Neroargento







Titolo:
Three Hours Of Sun
Nazione:
Italia
Formazione:
Alessio Neroargento - vocals, all instruments
Genere:
Durata:
40' 17"
Formato:
CD
Data di Uscita:
2011
Etichetta:
Distribuzione:
---
Agenzia di Promozione:
---
Recensione
Era da tantissimo tempo che non ascoltavo un disco così e devo dire che, non senza un senso di disorientamento iniziale, subito dopo quasi non ho creduto alle mie orecchie. Avessi avuto 16 anni e avessi dovuto scegliere tra "Three Hours Of Sun" e "Hybrid Theory" dei Linkin Park, personalmente avrei scelto il primo disco senza pensarci due volte. Mi suona più completo, certamente contiene elementi che sono giunti a noi anche dopo il periodo d'oro dell'alternative rock elettronico, ma se fosse uscito dieci anni fa oggi ci ritroveremmo con naturalezza ad annoverarlo tra i pionieri del genere. Un po' mi scoccia sia arrivato solo ora, ma almeno l'"attesa" è stata premiata.
Ultima fatica del polistrumentista Alessio Neroargento, che dà il nome a questa one-man band, posso certamente dire che
dischi come questo o si amano o si odiano, non c'è via di scampo. C'è chi li vede come l'ennesimo estratto della mente visionaria di un simil-dj e chi invece come un mero atto creativo, dettato dall'utilizzo dell'ultimissima elettronica d'avanguardia e da miriadi di idee che vanno a strizzar l'occhio un po' a qualsiasi cosa: dal nu-metal, al melodeath degli ultimi anni, fatto sta che di buono "Three Hours Of Sun" contiene non poco e, tra i dischi del genere usciti quest'anno, regna sovrano, quantomeno in Italia benché suoni molto d'oltreoceano. Lì la faccenda si fa più semplice, in quanto gli americani sono quasi abituati a sonorità tali, ma qui da noi, se ci mettessimo a stringere il cerchio, di realtà valide nell'elettronica rock ce ne sono ben poche rimaste e non sto certo parlando degli ultimi Subsonica.
Migliore dei Linkin Park, migliore dei Subsonica e con omaggi continui ad un certo Trent Reznor, oscuro quanto basta e godibile fino alla fine, nonostante gli ultimi tre brani abbassino leggermente il livello qualitativo, ma l'intero lavoro almeno è sorretto da una produzione eccellente. Veramente ottimo il trittico "Trust", "Daedalus Calls" e "Foreground", del lotto le tre perle più brillanti a mio avviso. Disco più che valido da ascoltare tutto d'un fiato. Veramente un bell'album.
Track by Track
Trust

85

Play Us Loud

75

Daedalus Calls

80

Helpless Like You

70

The Antidote

70

Adversing Muse

70

Foreground

80

Save Me From Myself

70

Will You

65

Underneath A Sky Of Dust

60

Go Baby Go

65
Giudizio Confezione
Qualità Audio:

85

Qualità Artwork:

65

Originalità:

75

Tecnica:

80
Recensione di
carnival creation

»
pubblicata il --. Articolo letto
1607
volte.
Articoli Correlati