Crawler «Knight Of The Word» (2011)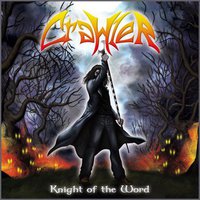 Autore:
Monikuez

»
Recensione Pubblicata il:
--
Visualizzazioni:
1686
Band:
Crawler




Titolo:
Knight Of The Word
Nazione:
Italia
Formazione:
Claudio Cesari - vocals
Renato Fecit - guitars
Filippo Severgnini - guitars
Giovanni Martiniello - bass
Nicola Martiniello - drums
Genere:
Durata:
40' 0"
Formato:
CD
Data di Uscita:
2011
Etichetta:
Distribuzione:
---
Agenzia di Promozione:
---
Recensione
Dopo due EP finalmente i Crawler, band di Cremona, pubblicano il loro primo full lenght intitolato "Knight Of The Word", liberamente ispirato al romanzo di Terry Brooks "Il Cavaliere del Verbo". Il sound che viene proposto è il classico heavy anni '80 ben collaudato alla Iron Maiden. A tutto questo aggiungiamo la produzione di Beau Hill (Alice Cooper, Warrant, Europe) che dà sicuramente un ulteriore valore aggiunto ad un album già di per sé buono. Dalle sonorità heavy in pezzi trascinanti come "Crawler", che dà il nome alla band, a "Danger! (On Elm Street)", a "Master Of The Night", dove non viene abbassata minimamente la guardia, né tantomeno la voglia di penetrare fino in fondo. Si prende velocità sia in riffing che drumming con "The King Will Come", fino a "Knight Of The Word", brano che dà il titolo all'album. Il disco è un'ottima prima prova da parte dei Crawler; all'interno della tracklist non ci sono cadute di ritmo, né di stile e riescono a rimanere costanti su un'eccellente livello sia compositivo che di esecuzione. Il cd, registrato in maniera impeccabile e ben confezionato, consigliato vivamente a tutti gli amanti dell'heavy classico e del power senza nessuna esclusione.
Track by Track
Crawler

80

Speed

80

Danger! (On Elm Street)

85

Burst

80

Angels In Paradise

80

Cagliostro

80

Masters Of The Night

80

Sick Song

80

Undeads

85

The King Will Come

80

Knight Of The Word

85
Giudizio Confezione
Qualità Audio:

80

Qualità Artwork:

80

Originalità:

80

Tecnica:

85
Recensione di
Monikuez

»
pubblicata il --. Articolo letto
1686
volte.
Articoli Correlati
Interviste
Spiacenti!

Non sono disponibili Interviste correlate.
Live Reports
Spiacenti!

Non sono disponibili Live Reports correlati.
Concerti
Spiacenti!

Non sono disponibili concerti correlati.