Agony Face «CXVIII Monolithic Squeakings» (2011)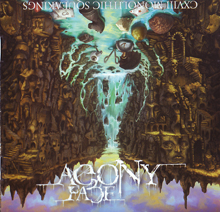 Autore:
June

»
Recensione Pubblicata il:
--
Visualizzazioni:
1787
Band:
Agony Face





Titolo:
CXVIII Monolithic Squeakings
Nazione:
Italia
Formazione:
Dave - vocals
Alex - guitar
Rico - guitar
Bass - drums
Genere:
Durata:
27' 4"
Formato:
CD
Data di Uscita:
2011
Etichetta:
Distribuzione:
---
Agenzia di Promozione:
---
Recensione
Interessante il death metal proposto dai milanesi Agony Face; anzitutto supportato da una grafica ragionata e motivata che significa professionalità in primo luogo, ma che riesce eloquente anche nel connotare lo stile della band: la copertina sotto sopra, i bizzarri disegnetti in calce ai testi nel libretto intendono descrivere un sound per prima cosa variegato e decorato e, in secondo luogo, surreale. Questo è l'aggettivo che il gruppo ha deciso di affiancare al proprio nome per scostarsi dalla massa delle facili definizioni e, anche se sulla carta non siamo in territori così insoliti, una verve melodica ricercata caratterizza i vari brani, dando luogo ad un cd aggressivo, ma anche atmosferico e, per suo conto, ben riuscito. Il dato di partenza resta il death metal, magari quello più vicino ai Death degli ultimi album: chitarre arzigogolate e armonizzate, ritmiche intricate; le evoluzioni vanno verso la direzione di band come i nostrani Infernal Poetry, inasprendo così la sensazione di imprevedibilità; in più il loro gusto melodico è romantico, ma inusuale. Ecco dunque che una traccia come "Explosion In 1000 Other Creations" offre un carnet di sensazioni death metal serrate, guidate da una chitarra solista particolarmente ispirata ed evocativa, soprattutto nella parte finale. Davvero riuscito l'intermezzo pseudo sinfonico di "Dreaming Exipe Totec" che spezza opportunamente a metà un disco per l'appunto molto ricco di varianti. "Falling From The Sta(i)rs" e "A Smart Trap", sono pezzi brutali che accendono un eventuale legame con band più violente degli Stati Uniti (Suffocation, Cannibal Corpse...), ma riservano sorprese ritmiche e chitarristiche davvero efficaci. Valida anche la produzione sonora, con suoni di pompati e taglienti che suggella un disco di cui suggerisco almeno un ascolto da parte di tutti gli appassionati di death metal, con la scusante di sentire qualcosa di un po' meno banale, senza doversi compromettere con sinfonie di plastica o ruffianate emo-core-spazzatura.
Track by Track
The Metamorphosis

70

Explosion In 1000 Other Creations

80

Impressionism: A Master Speaks To The Salt Merchants And The Hammer Artist Listen

75

Dreaming Xipe Totec

75

Falling From The Stairs

75

Smart Trap

70

The Bottomless Pit Tale

75
Giudizio Confezione
Qualità Audio:

75

Qualità Artwork:

80

Originalità:

70

Tecnica:

75
Recensione di
June

»
pubblicata il --. Articolo letto
1787
volte.
Articoli Correlati