Anthems Of Steel «Dark Shadow Within» (2011)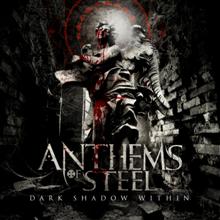 Autore:
carnival creation

»
Recensione Pubblicata il:
--
Visualizzazioni:
1318
Band:
Anthems Of Steel




Titolo:
Dark Shadow Within
Nazione:
Italia
Formazione:
Lukas - vocals, guitar
Ninwe - guitar
Rick - bass
Matt - drums
Genere:
Durata:
16' 0"
Formato:
Mini-CD
Data di Uscita:
2011
Etichetta:
Distribuzione:
---
Agenzia di Promozione:
---
Recensione
Non si può certo dire che gli "Anthems Of Steel" non abbiano le idee chiare. Come band è giovanissima, essendo nata di fatto nel 2009. Ma, sarà per il grande entusiasmo che ha colto i membri della line up per questo neonato progetto, i nostri hanno immediatamente pubblicato un l'EP "Inside Human Thoughts" e subito dopo il singolo "Nightmare Inferno", affrontando un concept che ha come argomento principale lo sdoppiamento della personalità del protagonista messo di fronte alla società moderna, concept che prosegue la sua storia con questo nuovo "Dark Shadow Within", mini-disco che appare più che altro come un promo per del materiale futuro ancora in via di sviluppo, chi può dirlo.
Ciò che invece posso dire con assoluta certezza è che, personalmente, gli Into Eternity esistono dal 1997 e tentare di intraprendere la propria ricerca stilistica affondando a pieno le mani nel calderone del melodic power/death ipertecnico della band di cui sopra potrei tradurlo in due modi: sfida personale di portare quel genere all'originalità più assoluta, oppure il classico "ci prende bene e quindi lo facciamo". Francamente ignoro quale delle due possa essere la risposta, tuttavia proseguo nel dire che gli AOS abbiano fatto il passo più lungo della gamba, in quanto la produzione della batteria lascia a desiderare in più parti, specialmente in "Nightmare Inferno", troppo carico di bassi; inoltre le non rare imprecisioni ritmiche abbassano notevolmente il tiro nei singoli brani. Nulla o quasi da dire su soli e riff di chitarre (benchè per risultare originali ancora ce ne voglia molto) e sulla poliedrica voce a là "Stu Block", di cui imita irrecuperabilmente lo stile -e non potrei dire altrimenti dato che sembra davvero di ascoltare il Block in "The Scattering Of Ashes"-.
Come proposta in sé non è male, ma finchè non si scrolleranno di dosso tutte queste influenze radicate nel profondo, dubito di poterli considerare una band dal suono fresco. Per ora rimandati.
Track by Track
Madness Progression

55

Dark Shadow Within

60

Nightmare Inferno

50
Giudizio Confezione
Qualità Audio:

60

Qualità Artwork:

60

Originalità:

45

Tecnica:

60
Recensione di
carnival creation

»
pubblicata il --. Articolo letto
1318
volte.
Articoli Correlati