Ravenscry «One Way Out» (2011)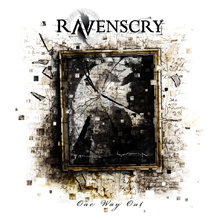 Autore:
reira

»
Recensione Pubblicata il:
--
Visualizzazioni:
2714
Band:
Ravenscry




Titolo:
One Way Out
Nazione:
Italia
Formazione:
Giulia - vocals
Paul - guitars, programming
Mauro - guitars, programming
Fagio - bass, programming
Simon - drums
Genere:
Durata:
51' 34"
Formato:
CD
Data di Uscita:
2011
Etichetta:
Distribuzione:
---
Agenzia di Promozione:
---
Recensione
I Ravenscry si formano nell'agosto del 2008 attraverso la collaborazione di Paolo "Paul" Raimondi e Mauro Paganelli, al basso Andrea "Fagio" Fagiuoli, alla batteria Simon Carminati e alla voce Giulia Stefani. Ad accomunare i singoli componenti sono la passione e l'entusiasmo per la musica, oltre a un background che ha loro permesso di accumulare esperienza nel settore. A seguito del debutto live al festival Agriturock (Tarquinia), la band promuove la sua musica attraverso una serie di concerti in Lombardia e Friuli; in poco tempo i Ranenscry si fanno conoscere anche sul web e registrano 12 pezzi originali avvalorandosi delle prestigiose collaborazioni del produttore Fabrizio Grossi (Steve Vai, Steve Lukather, Slash) e di Tom Baker (Marilyn Manson, Judas Priest, Sevendust). Dicembre 2009 vede l'uscita di un EP contentente 5 brani, distribuito su iTunes e nel febbraio 2010 ha inizio la collaborazione con il fotografo svedese Alex Lundvall che provvederà a diffondere la musica dei Ravenscry a Eskilstuna (Svezia), riscuotendo grande successo.
A ottobre 2010 i Ravenscry firmano un contratto con la Wormholedeath/Dreamcell11 per la pubblicazione e la distribuzione del primo full lenght "One Way Out" e questo dà il via a un tour europeo. Iniziamo quindi ad ascoltare cosa propongono questi ragazzi. "Calliope" è il pezzo di apertura dell'album, molto bello grazie all'intreccio tra la bellissima voce di Giulia, alla melodia del piano e all'aggressività delle chitarre. "Elements Dance" è più tranquilla, si fa notare per un ritornello semplice, ma che difficilmente vi uscirà dalla testa; "Nobody" è il singolo per eccellenza, data la sua completezza: Giulia tocca note piuttosto alte e riesce a farti venire la pelle d'oca grazie alla sua interpretazione intensa. "Starless Night" intreccia sapientemente dark e gothic, mentre "Redemption I - Rainy" mi ha ricordato molto un pezzo degli Evanescence ("My Immortal" per l'esattezza), sebbene la melodia non sia proprio uguale, trattasi comunque di un brano maliconico che si basa molto sull'utilizzo del piano;" Redemption II Reflection" è una sorta di continuazione della song precedente, fatta in versione orchestrale. "Redemption III Far Away" ha un sound oscuro, mi ricorda gli Epica; "Embrace" è incisiva e carismatica, credo potrebbe essere un altro singolo strategico per la promozione dell'album. "Journey" è una traccia energica, la caratteristica più evidente è il continuo alternarsi tra momenti di calma apparente e momenti più aggressivi e veloci. "Back To The Hell" è tipicamente in stile gothic, con tanto di violini e piano a fare da sfondo, il ritornello è piuttosto orecchiabile; "This Funny Dangerous Game" è piacevole, ma credo che sia la song meno originale del cd. Per chiudere in bellezza (perché di questo si tratta), troviamo "My Bitter Tale", potente e in un qualche modo "dannata", ottimo connubio tra la voce di Giulia e le capacità degli altri componenti della band.
I Ravenscry hanno fatto un ottimo lavoro con questo "One Way Out", dico sul serio. Sin dalla prima canzone ho capito che mi trovavo tra le mani un disco ben pensato e fatto con la giusta dose di passione e ambizione. Si capisce subito che questi ragazzi hanno esperienza e sono supportati da persone competenti che li ha aiutati a tirare fuori il meglio di ognuno di loro. Riguardo lo stile, potremmo dire che si accostano al gothic, con qualche traccia dark e un pò di sano heavy metal, insomma non suonano qualcosa di cui ci si annoia veramente. Consiglio vivamente di darci un ascolto, anzi meglio farne più di uno, giusto per capire e apprezzare il tutto.
Track by Track
Calliope

75

Elements Dance

70

Nobody

85

Starless Night

70

Redemption I - Rainy

75

Redemption II - Reflection

70

Redemption III - Far Away

70

Embrace

80

Journey

70

Back To The Hell

75

This Funny Dangerous Game

70

My Bitter Tale

85
Giudizio Confezione
Qualità Audio:

85

Qualità Artwork:

75

Originalità:

70

Tecnica:

80
Recensione di
reira

»
pubblicata il --. Articolo letto
2714
volte.
Articoli Correlati