Rusty Pacemaker «Blackness And White Light» (2010)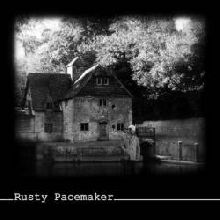 Autore:
reira

»
Recensione Pubblicata il:
--
Visualizzazioni:
1509
Band:
Rusty Pacemaker




Titolo:
Blackness And White Light
Nazione:
Austria
Formazione:
Rusty Pacemaker - voce, chitarra acustica, basso, tastiere
Franz Loechinger - batteria
Lady K - voce
Guests:
Hell-ga - tastiere (track 08)
Darth Love - chitarra classica (track 10)
Genere:
Durata:
59' 0"
Formato:
CD
Data di Uscita:
2010
Etichetta:
Distribuzione:
---
Agenzia di Promozione:
---
Recensione
Rusty Pacemaker è un musicista autodidatta austriaco. Nel 2003 vengono poste le radici del suo primo album, "Blackness and White Light", il quale vede la luce solo a fine 2010, grazie anche all'incontro e alla collaborazione con Franz Lochinger (batteria). Perseguendo il suo obiettivo di totale indipendenza, Rusty non solo si è impegnato in ogni singola fase del suo progetto musicale, ma ha anche fondato un'etichetta discografica: la Solanum Records. Influenzato dal compianto Quorthon (Bathory), Rusty si è già messo all'opera per la produzione del prossimo album. Per il momento, "accontentiamoci" di ascoltare il suo primo cd.
La prima traccia è "Cell", un po' lenta a iniziare (tant'è che pensavo fosse solo acustica) e complessivamente risulta essere un po' troppo piatta; "You Never Had" sembra più energica della precedente, qui la voce e la melodia ricordano vagamente i Tiamat di qualche anno fa. Un discorso molto analogo lo possiamo fare per la cupa "My Way". In "Amok" Rusty ci propone un duetto con la voce delicata di Lady K, tuttavia è difficile dare un senso logico ai repentini cambi di melodia e ai continui sussurri del cantante! Peccato perché avrebbe potuto essere una traccia interessante. "Waiting For Tomorrow" è il brano meno tetro del cd: non troppo complesso, ma abbastanza piacevole grazie all'intreccio tra piano e chitarra. "The Human Race" e "My Last Goodbye" sono, in linea generale, piuttosto simili: mantengono un'atmosfera oscura, ma in entrambe si denota un lieve accenno di aggressività rock; peccato che ciò si verifichi solo in brevi momenti. "Blackness and White Light" inizia con un temporale, poi Rusty gioca con la sua voce proponendo dei lunghi sospiri che risultano quasi fastidiosi; oltre a questo aggiungiamo un ritmo cadente e ripetitivo e una specie di xilofono che fa sembrare il tutto una ninna nanna. Quando arriva la chitarra a smuovere la situazione, il danno è ormai fatto e l'ascoltatore potrebbe essersi addormentato. "Revolution" è un pezzo complesso, il quale alterna i momenti di energia a quelli di tristezza e calma assoluta. "Mother" ritroviamo la presenza vocale di Lady K, ma neanche questa traccia mi convince pienamente, forse anche a causa di un testo decisamente allarmante.
In sintesi, ritengo che "Blackness And White Light" non sia particolarmente interessante e questo mi dispiace parecchio. Le dieci canzone in esso contenute rimangono monotone: va bene avere la fissa del dark o del gothic (o di qualunque cosa si tratti), ma a volte ho rischiato di annoiarmi. Non sto scherzando. A tutto questo mi permetto di aggiungere che la voce di Rusty non sia di altissimo livello e non sempre riesce ad adattarsi alla melodia. Il musicista austriaco è sicuramente dotato di talento e consiglio comunque di darci un ascolto, tuttavia spero che in futuro egli possa produrre materiale un pò più stimolante.
Track by Track
Cell

55

You Never Had

60

My Way

60

Amok

65

Waiting For Tomorrow

65

The Human Race

60

My Last Goodbye

60

Blackness And White Light

55

Revolution

60

Mother

60
Giudizio Confezione
Qualità Audio:

80

Qualità Artwork:

75

Originalità:

70

Tecnica:

80
Recensione di
reira

»
pubblicata il --. Articolo letto
1509
volte.
Articoli Correlati