Aura «Deliverance» (2011)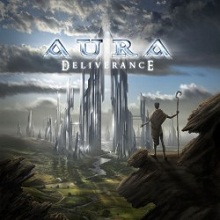 Autore:
carnival creation

»
Recensione Pubblicata il:
--
Visualizzazioni:
3250
Band:
Aura






Titolo:
Deliverance
Nazione:
Italia
Formazione:
Giuseppe Bruno - Guitar, Vocals
Angelo Cerquaglia - Bass, Vocals
Francesco Di Verniere - Keyboards
Giovanni Trotta - Drums, Vocals
Genere:
Durata:
53' 50"
Formato:
CD
Data di Uscita:
2011
Etichetta:
Distribuzione:
---
Agenzia di Promozione:
---
Recensione
Per gli italiani Aura è tempo di rilasciare il degno successore di "A Different View From The Same Side" (datato 2008) e di farci conoscere la loro nuova creatura, dal nome suggestivo di "Deliverance". Il gruppo nostrano progressive metal stavolta affronta un concept impegnativo che tratta un tema onirico, in parte; il sogno di un uomo che rivive i viaggi attraverso la Palestina provando la sofferenza del popolo d'Israele e dello stesso Gesù Cristo, il tutto per giungere alla finale redenzione. Un tema biblico imponente ed estremamente consistente.
La loro musica è fatta di un progressive mai troppo pesante da ascoltare e con massicce influenze di progressive rock tipicamente 70's. Possiamo ritrovare con facilità atmosfere che regala un acceso organo hammond e passaggi che richiamano quei Genesis, Yes, Emerson Lake & Palmer e Spock's Beard ma anche gli italiani PFM e soprattutto Le Orme con più energia e meno smielatura. Chiaramente debitori di un sound già sperimentato e reso famoso dalle band citate poc'anzi, i nostri non si lasciano certo scoraggiare e, armati di tutto l'ingegno e la creatività necessari, passano senza fatica tra un progressive metal più accesso ad un tecnico rock melodico giocando su soli di tastiere molto validi e buone vocalizzazioni; cantano chitarrista, bassista e batterista per cui, oltre a tutto la sonorità è bella carica ma mai patetica. Buonissime anche chitarra e il basso, sempre attive e mai ferme. Entrambi gli strumenti rappresentano le colonne portanti del disco e corrono sopra ritmi tutto sommato semplici ma esenti da ogni forma di banalità. Da segnalare sono assolutamente "Egypt's Call" e la buona "The Eden's Tree" che mi ha colpito per l'ottimo solo di tastiera ma anche -e forse anche di più- "Efraim", hit senza ombra di dubbio. Abbassando i toni e virando incontro ad atmosfere più intime compare "The Bridge Of Silence", già dal titolo evocativo, e che rappresenta il brano più più pacato e dolce, una discreta ballad insomma, mantenendo sempre e comunque lo stile dei nostri. Alla traccia successiva invece si ritorna ad un momento più vigoroso con "The Glorious Day" (anche qui il titolo la dice lunga) e il rincasato metal, stavolta più improntato sulla tecnica.
"Deliverance" non rappresenta certo la svolta definitiva del progressive metal/rock, né esalta particolarmente i suoni connotati, sebbene sia costituito per un 80% da questi canoni estetici ma il passo in avanti per gli Aura c'è stato e quindi è senz'altro un lavoro valido e che può sempre fare la felicità di appassionati del genere. Essendo anche di facile ascolto può servire moltissimo come avvicinamento per coloro che si trovano ancora digiuni dal genere.
Track by Track
The Arrival

65

In My Memories

70

Egypt's Call

70

The Eden's Tree

75

Efraim

80

A Candle's Dream

70

The Bridge Of Silence

80

The Glorious Day

80

The Last Stand

70

Resurrection

65
Giudizio Confezione
Qualità Audio:

70

Qualità Artwork:

65

Originalità:

65

Tecnica:

75
Recensione di
carnival creation

»
pubblicata il --. Articolo letto
3250
volte.
Articoli Correlati