Embrace Of Disharmony «Whispers From The Edge Of Nowhere» (2010)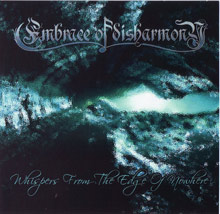 Autore:
BlackWingAngel

»
Recensione Pubblicata il:
--
Visualizzazioni:
1964
Band:
Embrace Of Disharmony




Titolo:
Whispers From The Edge Of Nowhere
Nazione:
Italia
Formazione:
Gloria Zanotti - vocals
Gabriele Vendittelli - vocals
Matteo Salvarezza - guitar, backing vocals
Leonardo Barcaroli - bass, fretless bass, backing vocals
Riccardo Piergiovanni - keyboards
Alessandro Santilli - drums
Genere:
Durata:
27' 36"
Formato:
CD
Data di Uscita:
2010
Etichetta:
Distribuzione:
---
Agenzia di Promozione:
---
Recensione
Coraggiosi. E' il primo aggettivo che mi è venuto in mente mentre ascoltavo questo "Whispers From The Edge Of Nowhere" dei romani Embrace Of Disharmony. Coraggiosi perchè hanno cercato di unire e mettere insieme tante influenze provenienti dai più disparati background musicali. Loro stessi affermano di ispirarsi a band del calibro di Adagio, Symphony X, Dream Theater ma anche Arcturus, Borknagar, Opeth. Sono nomi importanti che hanno proposte musicali molto spesso diametralmente opposte tra di loro. Le premesse sono sicuramente singolari e questo non ha fatto altro che fomentare la mia curiosità nel cercare di capire nel modo migliore il messaggio musicale che il sestetto romano cerca di proporre. Ascoltando minuziosamente questi cinque brani di cui è composto l'Ep in questione appaiono subito in maniera preponderante le influenze progressive più moderne quali quelle dei francesi Adagio. Ritmiche spezzate, unisoni e riff groovy sono il tappeto su cui i due cantanti, Gloria Zanotti alla voce femminile e Gabriele Vendittelli a quella maschile, cercano di intessere le loro melodie, più o meno riuscite. Il tutto arricchito da una tastiera che spesso sembra essere un po' troppo dipendente dalle influenze di Kevin Codfert della sopracitata band francese. Gli stilemi sono quelli: arrangiamenti sinfonici, tempi dispari, brani estremamente articolati e spunti prettamente virtuosistici, soprattutto da parte del chitarrista, Matteo Salvarezza, che sfoggia sicuramente una tecnica invidiabile. Perfettamente in linea con la nuova tendenza del progressive metal europeo vengono inseriti degli inserti vocali in growl, tipici di gruppi come Opeth o Adagio appunto, con però quel piglio quasi black tipico di gruppi come i Borknagar.
L'esperimento in cui si sono cimentati gli Embrace Of Disharmony forse gli è sfuggito un po'di mano. Coniugare, infatti, tutte queste influenze senza andare a minare la continuità e l'arrangiamento coerente di un pezzo è impresa assai ardua. I brani proposti spesso sembrano inconsistenti e asserviti, invece che al coinvolgimento dell'ascoltatore, al forzare dei linguaggi musicali che spesso cozzano tra di loro creando un guazzabuglio di colori che frequentemente stonano accostati l'uno all'altro. Considerando l'aspetto prettamente tecnico sono sicuramente una band estremamente preparata; la qualità sonora, quindi mixing e scelta dei suoni, è buona e decisamente in linea con le band di riferimento. Le idee e le capacità ci sono e l'originalità della proposta fanno ben sperare che ci sia un embrione decisamente promettente dietro a questa band, che deve riuscire a trovare il giusto mezzo tra tutte le sue influenze.
Track by Track
Hades

65

Vision In A Dream

70

Sleeping Fate

60

Dirge On A Soul Staring At The Stars

S.V.

A Descent Into The Maelstrom

S.V.
Giudizio Confezione
Qualità Audio:

70

Qualità Artwork:

60

Originalità:

70

Tecnica:

80
Recensione di
BlackWingAngel

»
pubblicata il --. Articolo letto
1964
volte.
Articoli Correlati